Dear CFC Community,
There are some places where people are warned never to go, known for violence, drug traffic, and poverty.  For those who have not grown up in these environments we are taught to fear and/or condemn people who live there.  This is not true of everyone.  There are some s/heroes who "see the faces at the bottom of the well," and offer a rope AND a bucket of food and water.  Atlanta Harm Reduction Coalition (AHRC) is the rescue organization where prevention is key and care is unconditional.  This week the CFC will spotlight AHRC because they need our support to keep their doors open.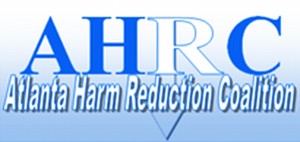 Atlanta Harm Reduction offers the only consistent syringe exchange program in the southeast region.  According to Mona Phillips, a founding member, their early advocacy work began with people living with HIV/AIDS.  During direct action campaigns to raise awareness about Atlantans needing access to affordable pharmaceutical drugs in 1996 they started seeing syringes on the ground.  Recognizing this marker to mean resurgence in heroin use they literally followed the syringes and the word on the street to English Avenue and set up shop there.
AHR has been in English Avenue since 1998 providing: FREE HIV testing, counseling, and connection with additional resources; FREE meals and hot showers a few days a week; FREE access computers and internet; FREE clothes closet access; FREE counseling for people with addictions; FREE Hepatitis A and B vaccines; FREE drug paraphernalia to stop the spread of AIDS, Hepatitis B and Hepatitis C; FREE condoms and counseling for sex workers everyday. The syringe exchange program, assumed to target people who use recreational drugs only, is also important for people with diabetes to inject insulin as well as transgender people for hormone injections.
Where others choose to avoid the basic needs of so many people in this area because they don't approve of their choices…Atlanta Harm Reduction rushed in.
While there have been articles, essays, videos, book chapters published about Atlanta Harm Reduction, state and county budget cuts make "FREE" hard to maintain and they are on the verge of having to close their doors.
AHRC sees 40-60 people each of the four days they are open, most come on Tuesday and Thursday because it will likely be their first shower or their last shower of the week.  While they receive support from the Atlanta Community Food Bank and Panera Bread, they still had to lay off staff and cut their days of service to four days.  They rely on volunteers and the good will of people, but many are uncomfortable with the fact that AHRC encourages people with addictions to get rehabilitation but refuses to criminalize them.  Marshall Rancifer says he has been effective getting more than 350 people successfully into rehab because AHRC is there when people are ready—no judgment.
I have had the privilege of spending time with Marshall Rancifer, Mona Bennett, and Verna Gaines, and a long-time student volunteer, Danielle Sharpe, and what I know is by supporting their work I am supporting communities in great need.  I admire the work Atlanta Harm Reduction is doing to stop the spread of HIV and I deeply respect that they do not turn anyone away.
So we are asking our CFC community to consider a one-time or monthly tax deductible donation of $5, $25, $100 or to volunteer your time.  This Friday come out to their Open House Fundraiser from 10am-4pm at AHRC where they will be providing tours of the facility.  Atlanta needs Harm Reduction and AHRC needs your support.  Donate, volunteer, spread the word!!! Do what you do best.
Thank You,
Crunk Feminist Collective