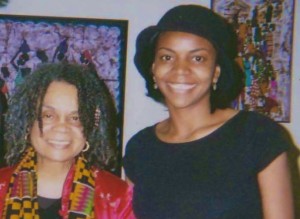 But we knew. And
our knowing was like a sister's embrace.
Sonia Sanchez, "A Letter to Dr. Martin Luther King," homegirls and handgrenades (1984)
I first sat at the feet of Sonia Sanchez at Spelman College where I was assiduously loved and educated. Sanchez was invited by the Women's Resource and Research Center to help train us up as scholar-activists in the Toni Cade Bambara way. She sipped water green with liquid chlorophyll while she spoke with us. It became my habit soon after.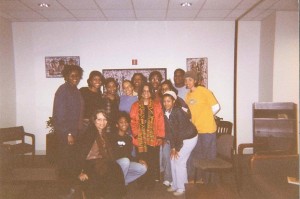 Last winter when she was welcomed by the good folk in Yale's Department of African American Studies, I nipped at her heels. I was seated at the back of a minibus of Black Studies-waymakers and sprinted after her when she politely beckoned the driver to stop so she could offer greetings to nearby Occupy New Haven activists. Later that night she retraced her footsteps as a founder of the field of study and not without critical reflection. She ended the evening by calling all assembled into a hand-clasped circle of gratitude.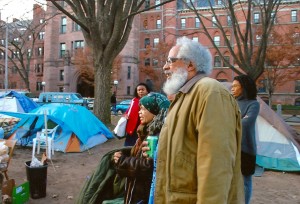 Just yesterday I recovered a portion of my sense at the Schomburg Center for Research in Black Culture in Harlem. I went there to finish reading an out-of-print anthology of short stories by black writers that I had begun at Yale's Beinecke Rare Book & Manuscript Library. I had been working through anthologies of African American literature when I was interrupted by a major depressive episode. Three weeks into a successful medication regimen and in the thick of therapy, I am now returning to the privilege of this work. We Be Word Sorcerers, published in 1974, witnessed Sonia Sanchez assembling writings from the seas of black genius. Her careful curation said that the river has always been turning to paraphrase a poet I will always be carrying.
"My people, black and black, revile the River.
Say that the River turns, and turn the River."
Gwendolyn Brooks, "The Sermon on the Warpland," In the Mecca (1968)
By introduction Sanchez wrote, "The stories in this book are about us during our long journey to tomorrow." The songs on this mix approach that arc that Black Studies enables, that Black Feminisms always extends. A distiller of language, Sanchez did not belabor the task. A page later she punctuated her introduction with these words:
We Be Word Sorcerers. Indeed. For we are the disenchanters of the gospel of inferiority, the exorcists of hatred of self, the enchanters of our renewed circle of Blackness where the love of self and each other has no Beginning or End.
Sonia Sanchez, "Introduction," We Be Word Sorcerers: 25 Stories by Black Americans  (1974)
This is for the word sorcerers, chiefly my mother Julie.
always arriving: a black scholar's mixtape
mixes by jalylah
"Frederick Douglass Afro Sheen Commercial" (for geneva)
"Cloud 9" Donnie (for moya)
"A Different World Season 6 Theme" Boyz II Men 
"Breakthrough" Tia Fuller/ "Black Studies" Sonia Sanchez (for spelman)
"Black Scholars" James Williams (for joe, kyra, daphne and ferentz)
"Abbeylude" Les Nubians
"Caged Bird" Abbey Lincoln
"Crow Dance" Zora Neale Hurston (for dr. gayles)
"Work To Do" Carl Allen and Rodney Whitaker/"Whoo" Sonia Sanchez (for elizabeth) 
"No Time To Play" Guru feat. Ronny Jordan, Dee C. Lee and Big Shug
"Work" Barrington Levy
"The American Promise" RAMP
"Bicentennial Prayer" Richard Pryor (for my dad)
"Ever" Zora Neale Hurston
"Women's Love Rights" Laura Lee (for all my black feminist kin)
"Sweet Sister Funk" Ramon Morris (for the cfc)
"Black Enough" Galt Mac Dermot and Melba Moore
"Prelude Welcome" Francisco Mora Catlett/"Poem for July 4, 1995″ Sonia Sanchez (for yale afam)
If you ask me who held up the light, I could write a book. From Lakeside to Li Po Chun to Spelman Lane to Washington Square to 81 Wall Street but today on my radio program There Ought To Be More Dancing  I will call many of their names. Tune in from 4-5 pm EST on WYBC Yale radio.