If you've been looking at my posts lately, I've clearly been on a kick of interviewing people who are creating work in the world that inspires me. The latest installment comes from multimedia maven Katina Parker about her project Truth. Be. Told. that highlights Queer Black Visionaries and their work in the world. Let's take a look! Oh and full disclosure, I'm honored to be in the number!
1. What is Truth. Be. Told.?
Truth. Be. Told. is an episodic TV series documenting the lives of Queer Black Visionaries. Each half-hour episode features an intimate conversation with a noteworthy interviewee as they discuss their lives, loves, and personal callings, as well as the experiences, realities, and identities that fuel them.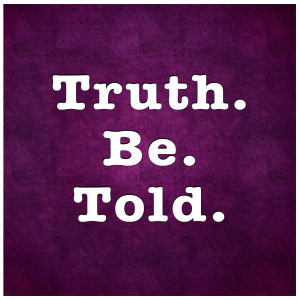 To date more than 50 people have committed to being interviewed. Confirmed participants include: Emil Wilbekin, Editor-at-Large for Essence magazine; Dr. Alexis Pauline Gumbs, Co-Creator of the Mobile Homecoming Project; Patrik-Ian Polk, Creator of Logo TV's Noah's Arc; and Dr. Kortney Ryan Ziegler, Filmmaker & Transgender Activist.
Executive Producers for Truth. Be. Told. include Carol Ann Shine, who produced Noah's Arc for Logo TV as well as the feature film Noah's Arc: Jumping the Broom, and Jennifer MacArthur, National Engagement Consultant for Independent Television Service (ITVS) and former Director of TV & Digital Media Engagement for the National Center for Media Engagement (NCME).
I direct and produce Truth. Be. Told. I am also an instructor at the Center for Documentary Studies at Duke University. Peace Process, an award-winning film that I made about transforming youth violence, airs regularly on The Documentary Channel.
2. How did the project start? What inspired you to make this documentary series?
Truth. Be. Told. is an outgrowth of my experiences while working at the Gay & Lesbian Alliance Against Defamation (GLAAD) as a Communications Strategist. There, my primary objective was to create visibility for Black LGBT issues in mainstream media. When I began at GLAAD, there were only a handful of Black LGBT people who were willing to speak publicly – and intelligently – about our issues. Over the years, I logged thousands of miles spokesperson-training more than 500 Black LGBT issue experts in New York; Washington, DC; Atlanta; etc. In the process, I came to know intimately the network of courageous pioneers who have chosen authenticity over fear, and met many of the bold young people who are poised to take us into the future.
Now, 8 years later, I can see the impact of the work that I did in conjunction with a few other pioneering communications strategists – holding editorial board meetings that pushed major media outlets to be more inclusive of LGBT people, empowering local community groups to pitch and tell their stories to area press outlets, and fostering opportunities for national media exposure with The Oprah Winfrey Show, CNN, etc. But we have only scratched the surface when it comes to visibility for Black LGBTQ people. While our stories are told more frequently than they used to be, our lives are shared in sound bites, book-ended by the editorializing of journalists. We don't get enough prime time real estate (in media or in formal community spaces) to engage in full dialogues about who we are and what we stand for.
Truth. Be. Told. tells our stories of transcendence and triumph by positioning the cultivation of personal identity and transformation as a mark of innovation.
3. What makes this project so necessary right now?
Clearly, Black LGBTQ people need the space to tell their stories – and we've needed it for some time. I can't possibly sit on or sit through another panel, over-crowded by LGBT issue experts of every persuasion, who have been given the task of summarizing all of our collective issues in 90 minutes or less, i.e., coming out, homophobia in black churches, transphobia, Black LGBT images in media, the impact of HIV/AIDS on Black gay men, bullying, gay as the new black, etc. I'm tired of Black people being blanketly characterized as homophobic, whenever marriage equality gets major media heat. The nuanced and explorative conversations that so many of us have with our loved ones deserve elevated visibility so that others who don't have immediate access to our circles of influence can be included. And we deserve to be strengthened by a show that captures our resilience, our complexity, and our commitment to change.
4. How do you define "Queer Black Visionary"?
For the purposes of Truth. Be. Told., a Queer Black Visionary is someone noteworthy, but not necessarily famous, who has a compelling personal story to tell. Per the life experience of each person interviewed, the testimonies cover a broad range of topics, but generally center around the interviewee's journey towards self-discovery; important moments that defined them; love lessons they received; how they came into their vocation(s); exploring, naming and elevating cultural/spiritual practices; and navigating bias – all against the backdrop of the community, family, and friends who support them.
We use the word "Queer" to describe the plethora of gender identities and sexual orientations represented by those who've agreed to be interviewed; however, within each interview, participants are encouraged to use the self-identifiers with which they feel most comfortable. Those identifiers may include: queer, gay, lesbian, bisexual, transgender, genderqueer, same gender loving, two spirited, intersex, cisgender, etc.
5. Why are images and representations of Black and Queer people so important to you?
There was a time when I felt so isolated that I considered taking my life, when it was easier to be a drug addict than it was to be me. I was clueless about how to be an out, queer Black woman. I believe that my coming out experience might have been less chaotic and self-destructive if I had seen more people who looked like me, who thought like me, or who had healed enough to serve as a living example of the possibilities that were ahead of me. I want to widen the path for those who have already come out, who are in the process of coming out, who are friends and family of those who are LGBTQ, and in order to do that, we need to see affirming images of Queer Black people. By telling our stories, we create spaces where more of us can bring all of who we are, wherever we go, all the time.
6. What is your wildest dream for Truth. Be. Told.?
I plan for Truth. Be. Told. to go 5 seasons. I want to create 122 episodes in collaboration with 122 Queer Black people who have done the work to show up as authentic in their own lives and the lives of their loved ones. We plan to distribute the show via a major network like Showtime, BET, or TVOne, and to reach people through digital platforms like Hulu Plus, Netflix, and iTunes.
7. How can people get involved?
Currently, we are on a mission to raise $10,000 by 11:59pm, PST on Wednesday, April 17 to fund a pilot episode, which will be used to:
• Secure a world premiere at the OUTFest Film Festival in Los Angeles (July 2013). OUTFest is the oldest LGBT film festival in America, having screened over 20,000 films and having reached over 1 million people in its 31-year history;
• Secure digital platform distribution via HuluPlus, Netflix, iTunes, and Amazon Video on Demand;
• Secure network distribution via either Logo, Showtime, BET, or TVOne;
• Screen at pride festivals, film festivals, fundraisers, and LGBT events throughout Fall 2013.
Donations start at $5. Perks include digital downloads of the pilot, postcard sets, signed posters, and producer credit. To view more info about the Truth. Be. Told. IndieGoGo campaign visit: http://www.indiegogo.com/projects/truth-be-told-pilot-fundraiser-take-two
8. What's next for you?
For the next few years, I will be landing this mother ship known as Truth. Be. Told. By the end of summer, Lord willing/Creek don't rise, the first season will be fully-funded with distribution deals in place for network TV and digital platforms. Getting there is a process and a serious commitment. First, we have to get the pilot cut and out into the world so that people can see just how fly the show is. Then there's raising the money. And once we have the money, there's production, editing, and finally distribution and marketing. It's a process, but it's so worth it. This series will be one for the books. Legendary, I tell you.
9. What truths do you tell through the work that you do?
Most of my work is about the healing powers of love, self-care, self-reclamation, compassion, and forgiveness. I believe in others the way I believe in myself.
Three essential themes in my work:
1) Your search proves your love.
2) People grow and people change.
3) Talking is loving.