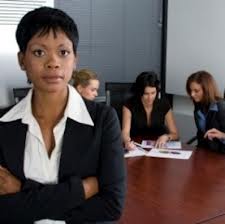 When I was working on my Ph.D., I swore that I would not be one of those people who tripped every time someone didn't greet them with the proper title…
As a first generation college student I was not aware, during my undergraduate years, that most of my professors had a Ph.D. (or even what a Ph.D. was, or what that meant) so it was off-putting when I would be chastised for not saying Dr. ____.  At the time, when I referred to a professor as Ms. or Mr. instead of Dr., it was not because I was trying to be disrespectful, it was quite the opposite.  Being a "country blackgirl" my Mama always taught me to greet my elders, especially strangers, as Ms., or Mr. ______ (which is something I still do to this day), so the last thing I intended was to offend my professors.  I simply and literally didn't "know any better."
However (comma), I have found myself lately feeling some kind of way when I am spoken to, by students, without proper title.  I think this has as much to do with a change in times (evidently students are far less trying to be politically or socially correct with professors these days), as any intentional conspiracy, but I can't help but take issue.  The fact is that even when I didn't understand that my professors were doctors, I never forgot that they were my professors.  In other words, even when I mis-used Ms., and/or Mr., instead of Dr., it never EVER occurred to me to refer to my professor/teacher by their first name (especially since the uneasy feeling I get in the pit of my stomach when I am called by my first name in those contexts is no different than the visceral reaction I have felt when being called a "bitch").
So, maybe that is why I have been tripping lately, astonished at the amount of times I have heard my first name escape the lips of students when they are referring to and/or engaging me.  At first I felt ridiculous, I mean it's not like I was being called "out my name," but the more I thought about it and talked about it with colleagues the more I wondered if I wasn't, in fact, being called out of my name by being called my first name.
This is textbook intersectionality.  Given my age, race, gender/sex and location I find myself in a conundrum when it happens, wondering if, for example, this assumed informality is based on me being not much older than my students, or because I am one of the "cool" professors.  Or is it because I am a (black) woman who is not much older than my students and "cool as hell"?  I can't dissect the reasoning and I can't help but think about how black women have historically been seen as not worthy of particular social etiquette or respect simply because they were black (for example, back in the day while white women were referred to as m'am, black women were called by their first names by white children, even if they were elders—it was a social allowance to reinforce, perpetually, that black women were given no more respect or regard than a child).  I think about these things, and wonder if/when I am called "Robin" instead of "Dr. B(oylorn)," if it is a slight, a mistake, or simply a cultural/social miscue.
But then, I realize that other faculty (not of color, or my age, or my sex) are automatically given the courtesy of title acknowledgment.  I remember sitting in a professional meeting with staff members and professors across campus late last year, seated next to another faculty woman of color (we were the only two people of color in the room), and throughout the meeting hearing staff members refer to the white male professor in the room as Dr. ____ while calling me and my colleague by our first names.  Don't get me wrong, in professional contexts, with other professionals, I don't expect to be called doctor, but it seems to mean something when I am called by my name while the (white) man in the room, whose credentials are no higher than mine, is.  There was a distinction being made and it made me feel like my Ph.D. (and me) was being read as illegitimate or irrelevant.
Don't get me wrong…I don't go around passing out my business cards with the Ph.D., underlined, nor do I make a point in my everyday life, outside of the academy/university, to let people know I have a Ph.D.  No one in my family calls me Dr., my friends don't call me Dr., I don't get pissed when my mail refers to me as Ms. (and sometimes Mrs.) Boylorn instead of Dr., or correct perfect strangers when they greet me as Ms. in public.  In fact, outside of work, I don't even think about having a Ph.D.  However, when I am "on the job," "in the classroom," "reading emails (from students)," or interacting inside the ivory tower (with students) I am Dr. Boylorn because it's my job to be Dr. Boylorn.
After some reflection and discussion I realize that being called Dr. ____ is a sign of respect and acknowledgment.  To call me anything else is to reduce me to the status of a peer, to erase the power dynamic that exists between me and the student, to assume (particularly when it happens without permission) that because I am a (30-something, black) woman, I don't require formal distinctions or courtesies.
There are politics in naming, and as a black woman with a Ph.D. (which is no small feat) who juggles racial microaggressions and various forms of slight and disrespect every single day of my life, I don't want to wonder what is meant when informality is assumed.  In professional contexts it is important that boundaries and distinctions of relationship are clear.  Because I don't meet the stereotypical standards of a professor (or a Ph.D.) it can be problematic and uncomfortable when I am not acknowledged in the same way that other professors are.
I realize that there are exceptions to this rule.  For example, as a Ph.D. student I was encouraged (and given permission) to interact and engage my professors by their first names (however, depending on my relationship/s with them, I sometimes still reverted to formal exchanges) because I was being trained/prepared to be their colleague; some academic  and departmental cultures may be intentionally informal between students (mostly graduate, but sometimes undergraduate students) and professors who may interact on a first name basis (but this is generally consistent across the board with ALL faculty and is made clear from the beginning); and/or former students with whom professors maintain a relationship may transition away from the formality when a personal relationship replaces the professional one; but generally, especially within the context of academia, it is probably best to be formal.
In terms of professional etiquette I believe that students should always be formal with their professors (those they work with and those they don't know, both in person and in digital communications) unless and/or until they are given permission not to be.  Being informal without permission can be interpreted as disrespectful, presumptuous and unprofessional (when coming from a student), especially for faculty who are sometimes so easily dismissed as an authority figure.
So yeah, I never thought that I would be "one of those people" who tripped about someone not referring to me as Dr. ________, but I figure that until they start handing out Ph.D.'s (for free) in the grocery line, it is not unreasonable or unfeminist to expect/require/demand that in the professional contexts in which it matters that my first name be replaced with my professional one.  I think one of my t-shirts (a gift from one of my students when I received my Ph.D.) says it best, "That's Ms. Dr. Boylorn to you."