In her famous essay, "Interstices: A Small Drama of Words," the venerable literary critic Hortense Spillers wrote, "Black women are the beached whales of the sexual universe, unvoiced, misseen, not doing, awaiting their verb."
At the time, Spillers was talking about the lack of texts about Black women's sexuality and the lack of a collectively-honed voice and articulation about Black women's sexuality from Black women themselves. She was writing in a moment that is very different from this one. In Spillers moment, controlling images of Black women as jezebels and mammies ruled the day. These days, the careful labor of multiple generations of Black feminist women fighting for us, together with the expansive reach of social media has transformed this moment into one which allows Black women far more possibilities for self-authorship around the sexual lives they want to have, the sexual selves they want to be, and the sexy things they want to do.
Still a recent series of conversations with some of my girls, brought this idea of Black women "awaiting their verb," back to mind.
In this era of #BlackGirlMagic, Black women and girls are actively constituting and reconstructing a grammar of Black girlhood and Black womanhood. The active way that Black girls do the things we do constitutes new verbiage in its own right.
Back last fall, when Viola Davis won the Emmy for Best Actress, and donned the stage to accept her award, Taraji P. Henson, who had also been nominated, was the only person in the room to give Viola a standing ovation for knocking down this historic barrier. Taraji clapped, nodded, and listened intently and as her colleague took her moment to shine on stage.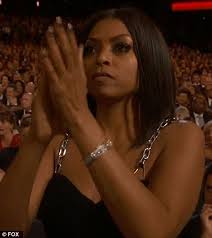 My good friend Dr. Treva Lindsey pointed out this show of support between Black women in a predominantly white space, as a particularly Black-girl act of solidarity. Taraji, had become for Treva, a verb.
Taraji – (v.) to support, to show up, to ride for.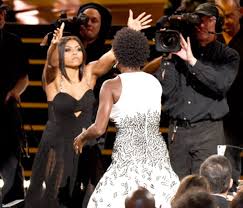 Black girl, as it turns out, is a verb.
Serena Williams is another Black girl who is a verb. Months ago, as we watched Serena march her way to another "Serena Slam," in which she won four consecutive grand slam tournaments, my good friend Esther Armah pointed out that Serena is a verb.
Serena – (v.) to slay, to conquer, to body.
In that moment, Esther told me to "Serena my book revisions." And I immediately felt like Wonder Woman. You couldn't tell me anything. Esther was in that moment Taraji'ing for my ability to show and Serena my own obstacles.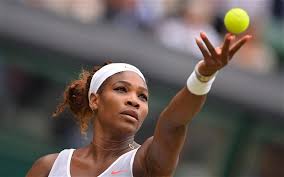 It doesn't get anymore more #BlackGirlMagic than that.
Last week, Serena took on the co-founder of the Indian Wells tennis tournament, a tournament that she and Venus famously refused to play for nearly a decade and a half after they were subjected to racial slurs by the crowd back in 2001. In 2015 Serena returned to Indian Wells. Last week, Raymond Moore, CEO of Indian Wells, offered a bizarre set of sexist comments in which he asserted,
In my next life, when I come back, I want to be someone in the WTA [Women's Tennis Association] because they ride on the coattails of the men," said Moore, before continuing to add that female players don't make any decisions and have just been very lucky. "If I was a lady player, I'd go down every night on my knees and thank God that Roger Federer and Rafa Nadal were born because they have carried this sport. They really have."
Not only is this shit sexist and misguided. But one wonders what professional tennis Moore has been watching for the last decade. The Williams Sisters playing primetime makes professional tennis associations and network television obscene amounts of money. Just because the Williams Sisters backs ain't bent don't mean they ain't been carrying the sport.
Serena responded,
Obviously, I don't think any woman should be down on their knees thanking anybody like that. If I could tell you every day how many people say they don't watch tennis unless they're watching myself or my sister, I couldn't even bring up that number. So I don't think that is a very accurate statement. If you read the transcript you can only interpret it one way. I speak very good English; I'm sure he does, too. You know, there's only one way to interpret that. Get on your knees, which is offensive enough, and thank a man, which is not—we, as women, have come a long way. We shouldn't have to drop to our knees at any point."
Shortly thereafter, Moore resigned. He got Serena'd.
Black women are no longer awaiting their verb. White men no longer get to deploy sexist sexual tropes about female submissiveness in ways that denigrate all women, by (and while) actively erasing the clear and visible labor of Black women. The Williams Sisters have almost single-handedly changed the game, making it relevant in the 21st century for everybody. And anybody with sense knows that. Now certainly, as sexual politics and pleasure go, ain't nothing wrong with getting on your knees. But we don't owe these knees to anybody, certainly not to those whom we have carried.
As in so many cases, we have kneaded the American Grammar Book," (another Spillers term) into the thing, we needed it to be. And we ain't got no more "knee(d)s" to give, unless a knee to the groin is what ya into. Ya heard?
No the transformation has not been total. But to put a fancy spin on it, Black girl verb-ing, is the kind of discursive insurgency that can make folks shut up, sit down, and pay attention. They might talk about us, but we get to talk back.
Black women wait for no one. If verbs are what you want, verbs are what we're serving. And we got adverbs, too. Because for sisters, it is never just about what we do. It's also about how we do.
This is my Black girl magic reminder. Whatever verbs you need, you already are. Because we already are.
If you need to slay, Serena.
If you need to show up for a sister, Taraji.
If you need somebody to tell the truth and shame the devil (that is Peter Gunz), Cardi B.
If you need somebody to run shit, Beyoncé.
If you need to win, Gabby.
If you need somebody to get Crunk, CFC.
If you need somebody to get you, Blackgirls 'r us.
Because we got us. And we do this. Recognize. #BlackGirlIsAVerb
Update: I learned today of an earlier scholarly take on the creative ways ways that Black girls verb. You can find the citation here.