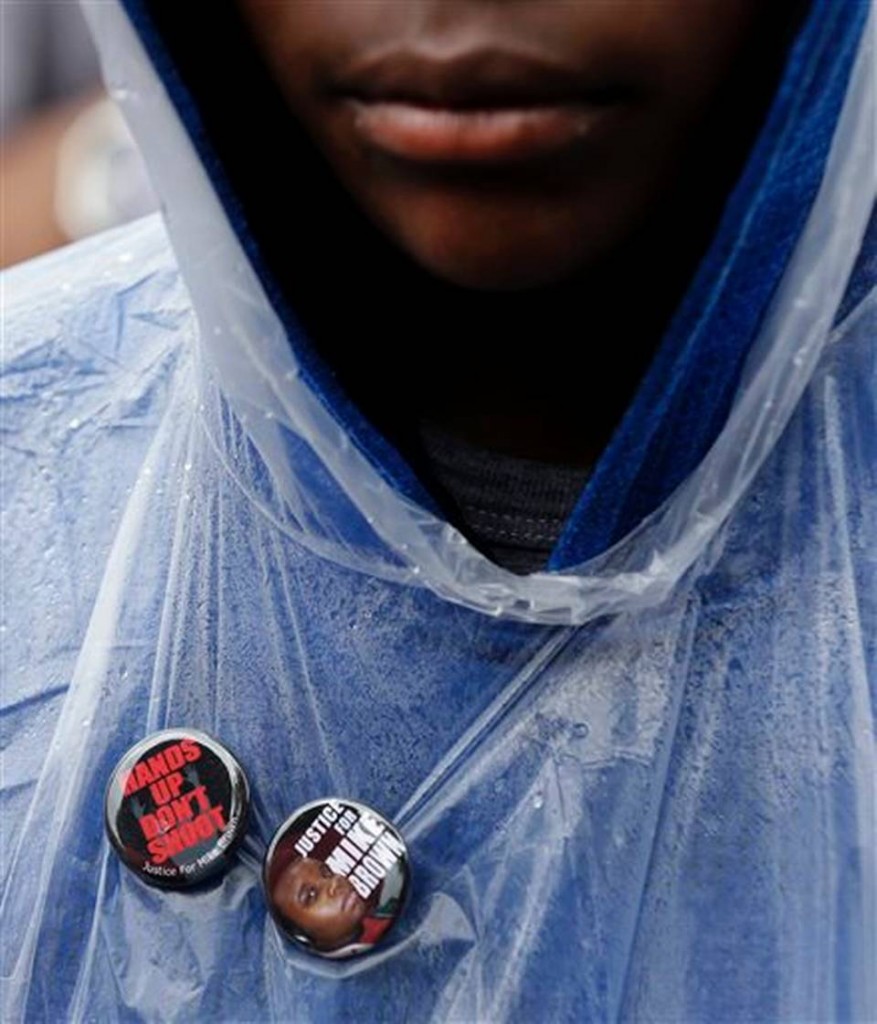 "I have come to believe over and over again that what is most important to me must be spoken, made verbal and shared, even at the risk of having it bruised or misunderstood. That the speaking profits me, beyond any other effect.
My silences had not protected me. Your silence will not protect you."
(excerpt from The Transformation of Silence into Language and Action, by Audre Lorde)
As I prepare the syllabi and lesson plans for my fall classes I am dealing with uncertainty about how to teach about Ferguson and the merciless assault on black bodies and minds that is happening even as I write.  I don't know what to say.  As I watch footage on  television, follow developments on newsfeeds, and watch news clips on social media I find myself amazed at how our foremothers and ancestors lived through the fear, anger, anguish and devastation of having their lives diminished and disrespected, their children murdered in broad daylight with no consequences, and their attempts at justice, both peaceful and passionate, met with armed guards, guard dogs, and constant threats with their own vanquished lives vanishing at a pace similar to their sons and loved ones.  I don't know how to make sense of the possibility of Ferguson, the inevitability of Ferguson, the reality of Ferguson existing in the twenty-first century.  We are living with retrograde racism the likes of which our parents and (great-) grandparents hoped to never experience again and prayed we would never experience at all.   And I am struggling for words.
Every other day I learn another name I wish I didn't know (Eric Garner, John Crawford, Ezell Ford) and add it to an ever-expanding list of black victims of police and vigilante violence (Jordan Davis, Tarika Wilson, Amadou Diallo, Rekia Boyd, Sean Bell, Yvette Smith, Trayvon Martin) because "truth is, we are all one bullet away from being a hashtag" (black women included). And that reality, and fruitless attempts to try to make sense of senselessness, means that Ferguson is not necessarily unique as a crime scene holding the dead body of an unarmed black teen, but it is a breaking point.  Ferguson is our breaking point.  The death of Michael Brown, emblematic of countless others, and the collective loss, grief and justified anger of people (of color and allies) who are tired of being terrorized and victimized by injustice requires that we say something.  But I don't know what to say.  I don't know where to begin.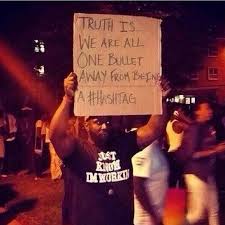 I do know, as (the) Audre Lorde reminds us, that our silence will not protect us.  Saying nothing is not an option or a remedy.  I will not be a bystander or silent witness to injustice, murder, discrimination, character assassination, misappropriation, unchecked privilege and what amounts to state sanctioned terrorism of poor black and brown folk.  Silence will not do, but what do you say?  Words feel inadequate and inelegant even when attached to personal accounts or lived experience.
In the five years I have been teaching as a university professor I have not had a lack of current and present examples, both far and near, that the concept of post-racialism is a myth.  Whether it was the segregation of sororities and fraternities, racial slurs being slung at black passersby, or racial epithets being chalked on sidewalks on the campus where I teach (not to mention racial slurs on social media by students), I have experienced racism ephemerally and incessantly.  I have explained that a black president is not a panacea for racism, that listening to hip hop does not an ally make, and that assumptions and stereotypes of blackness constantly put people of color at risk.
Still, every semester students question the legitimacy (and existence) of racism, the relevance of discussions about race, and whether or not is warrants class discussion at all.  Others misconstrue racism as the mere mention (acknowledgment of the existence) of race, white privilege, and/or discrimination. Some of the problem is ignorance, a refusal to wrestle with race as a factor in how folk are seen, treated and remembered in this country.  Some of the problem is with the narrative that often blames black victims and shifts the focus of unprovoked murder away from the crime and perpetrator and onto the victims, disseminating irrelevant facts intended to make them appear suspicious.  As Jesse Williams said over the weekend, it is important that we discuss the narrative and start at the beginning.  Williams said, "You'll find that the people doing the oppressing always want to start the narrative at a convenient part, or always want to start the story in the middle."  Word. We can't talk about the insidiousness of racism by ignoring its history, we can't talk about the irrationality of white fear, the policing of black bodies, the attempts to dismantle peaceful protests without acknowledging the long and storied history of racism in America, and in Ferguson.
And we can't talk/think about Mike Brown without talking/thinking about Trayvon Martin and Oscar Grant and Emmett Till.  The story about and around Ferguson is not the story of looters or riots, it's not a story of hot-headed, irrational, felonious mobs wreaking havoc on their community, or heroic law enforcement officers protecting and serving.  The true narrative of Ferguson existed before Michael Brown walked to the store with his friend on Saturday.  It existed long before Michael Brown did.  And the narrative requires an acknowledgment that being black, poor, uneducated, intoxicated or belligerent is not an offense punishable by death–neither is being dark-skinned, big-bodied, working-class, on your way to college, sober and minding your own damn business.  But innocence doesn't protect black people.  And racism and politics of respectability insist that black victims only deserve the benefit of the doubt under particular circumstances, wearing collar shirts and not hoodies, carrying bibles and not cigarellos, putting up peace signs and not middle fingers– but if black lives matter, and they do, then ALL black lives matter!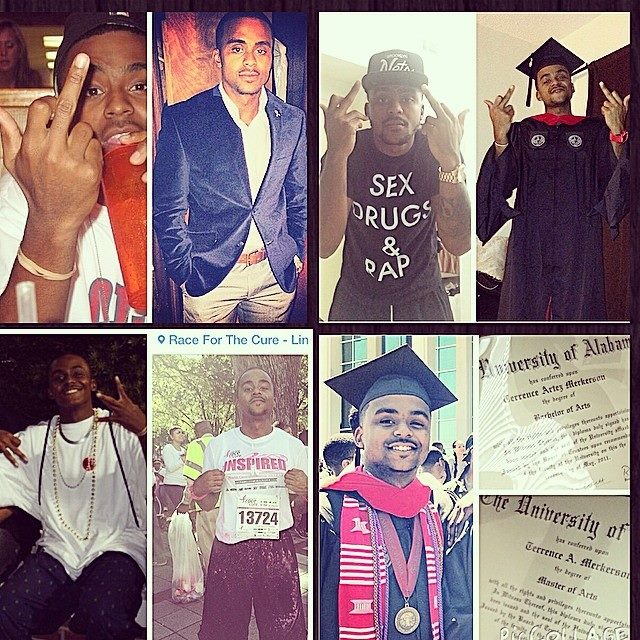 The irrationality of racism seeks to justify the death of an unarmed teenager.  Racism says that if "Mike Mike" Brown walked out of the store with a box of cigars, bucked at store owner on his way out the door, was walking in the street instead of the sidewalk, was walking in the street instead of the sidewalk with his homeboy, was walking in the street instead of the sidewalk with his homeboy (who had dreads and visible tattoos) with a handful of swisher sweets in his pocket and weed in his system and popped shit back at a cop that was popping shit at him that he deserved what he got.  Racism is a cotdamn lie!
The illogicality of respectability politics insist that black people resist rage in the face of injustice and sit quietly in the corner with their legs crossed and their pearls clutched.  Respectability says that Michael Brown (not "Mike Mike" as he was affectionately called by friends) should not have been at the store in the first place, should have shown more reverence to his elders, should have never been walking in the middle of the road, should have complied with the police officer's demand without comment and without looking up, should have been wearing his Sunday best on Saturday, should have not been hanging around with other boys his age, who look like him, who are from where he's from.  Respectability believes that this generation needs to have more discipline, more respect for authority, more personal accountability.  Respectability thinks rule following, wardrobe, education, class standing, "traditional families," and political progress can save you, and that Michael's self presentation and demeanor made him culpable in his own demise.  Respectability is wrong!
We have been force fed lies and untruths about who the victim/s are in Ferguson.  Some folk have been deceived into thinking that it was Michael Brown's choices and not those of his murderer that led to his brutal death.  Some folk are thinking that any time a group of black folk gather together they create a mob, instead of creating a community.  Some folk have a lot to say but ain't saying nothing (you did see/hear about the POTUS' two press conferences, right?).  Some folk ain't saying nothing because they don't know what to say.
At the end of the day I don't know if words will come as easily as tears when I stand in my classroom to talk about Michael Brown, and others like him, who look like me and have lost their lives in the last thirty days.  I don't know what I will say when a student claims that race has nothing to do with it, when a commenter challenges Brown's innocence or celebrates the murderer's freedom, when a troll maintains that it is an isolated incident not worthy of discussion or media coverage, or when any one of the dozens of black men I love ask me how they can stay alive.  I may still be at a loss of words because they are caught in my throat between helplessness and hope.
I leave with another excerpt from Lorde's essay, "What are the words you do not yet have? What do you need to say? What are the tyrannies you swallow day by day and attempt to make your own, until you will sicken and die of them, still in silence?"
I'm still struggling for words but I am finding a way to articulate my pain, my frustration, my rage, my fear, my sadness, my emotional exhaustion and my disappointment.  Even when I can't speak I understand that silence in the face of social injustice and inequity is always insufficient.  Sometimes it's not about what you say (or do), but the fact that you say (or do) something!
No justice, no peace.
Know justice. Know peace.
—
The CFC is partnering with #BlackLivesMatter to "bring Black folks and anti-racist allies from across the country into Ferguson, Missouri, as part of a national call to end state violence against Black people." If you are interested in joining the Black Life Matters Ride to Ferguson on Labor Day weekend, please complete this form and visit the Black Life Matters Ride Facebook page for more information.  You can also donate to the crowdfunding campaign.