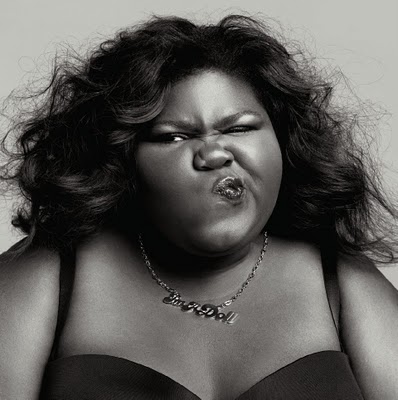 Dear Gabby,
Hey, girl! It's me, Crunkadelic. I've been a fan for a long time, but I just wanted to drop you a line and send you a bit of love. Things seem to be going really well for you, but I see that you've experienced a fair bit of shade this past weekend for your outfit at the Golden Globes.
Well, it's a truth universally acknowledged that haters gonna hate.
Folks were up in arms about your cream colored ensemble. Some said it wasn't flattering and, of course, there were the comments on your weight that varied from concern trolling to out and out abuse.
Being a big Black woman myself, I've experienced more than my fair share of weight and complexion based shade and just plain ole policing. It was super painful in my youth, although now I generally just give a side eye and keep it pushing.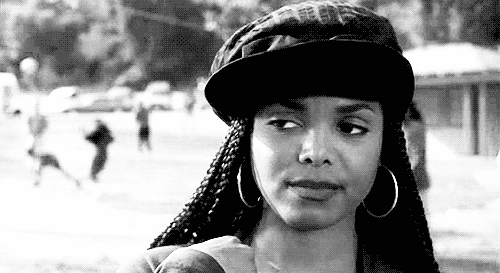 Now, personally, while I'm not a fan of that oatmeal color that seems to be in vogue this season (I saw you rocking that hue too, Kerry Washington), I thought you looked great because 1) you're beautiful and 2) you're fierce. So, while the hateration was no surprise, it's still tired, raggedy, and ain't nobody got time for it!
While I know that the negative energy you receive day after day has an effect, I had hoped you weren't letting it get you down too much. And now, after seeing your response to your haters, I see that you too are a fellow queen of shade.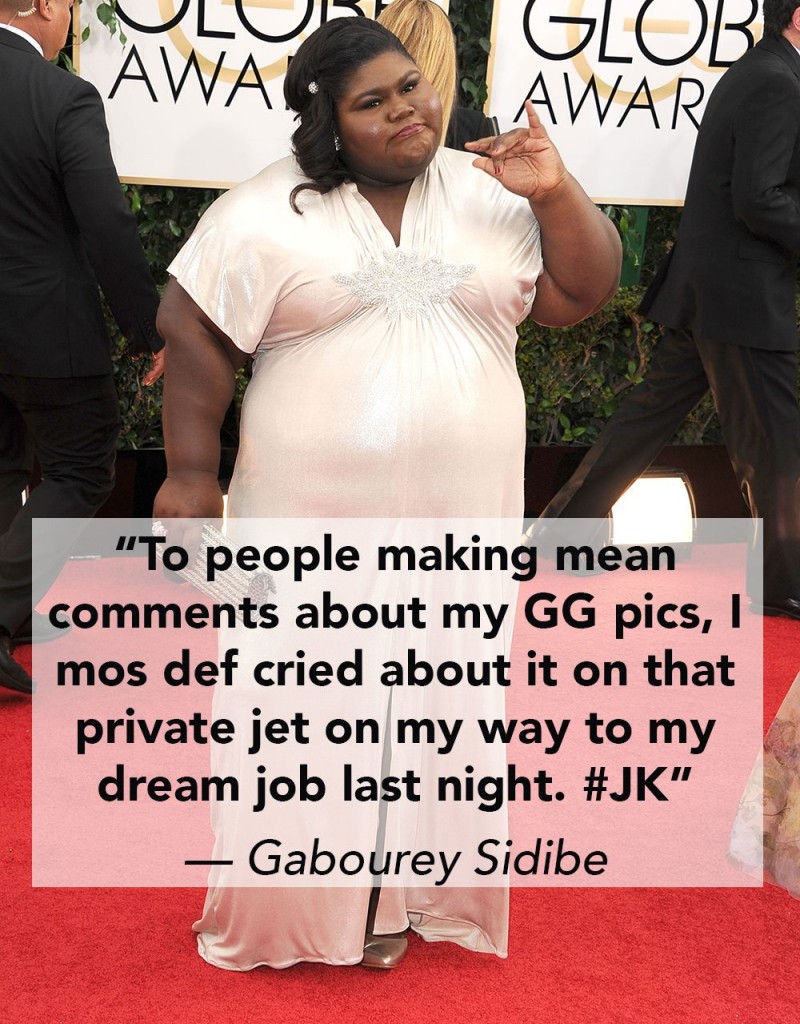 Gabby! Girl! My immediate reaction to your tweet was, "Yassssss!!!!!" I caught the holy ghost for real. All these bitter, twisted people wanted to shade your outfit while they were watching the red carpet coverage from their flatscreens and you're out there living your life. All these folks "concerned" about your health, but willing to tear you down in the process to show how much they "care." Chile, boo.
You met my Wonder Twin, Crunktastic, in New Orleans recently and she loved meeting you. She said that you were gracious, kind, and very fierce. I appreciate that you are as beautiful in person as you are on screen.
I love, love, love your response after the Golden Globes and your crunkness in every interview. I love that you haven't let other people's insecurities become your own. I love that in a world hell bent on diminishing you and other Black woman that you stand tall and proud. Thank you for being a great example of unapologetic fierceness. I hope your career continues to prosper and that you continue to live out loud and don't let the haters steal your light.
Much love,
Your sister, Crunkadelic