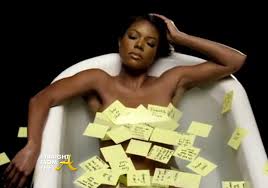 Last year, Gabrielle Union received the Fierce and Fearless Award at Essence magazine's sixth annual Black Women in Hollywood pre-Oscars luncheon and gave a dope speech about her journey in Hollywood and learning to love herself and other black women.  She opened up and shared the truth of her experience, her pain, her insecurity, and her power (this was the same speech that inspired an episode of Oprah's Next Chapter that featured Viola Davis, Alfre Woodard, Phylicia Rashad and Gabrielle Union talking candidly about being black actresses).  I watched Oprah's Next Chapter (and Union's speech later) in awe, once again, at the resilience of black womanhood, and the power of transparency and honesty.
In a culture that constantly diminishes and/or attempts to silence, mock, and shame black women (for examples that have happened in just the last few days check out Crunktastic's brilliant post yesterday on respectability politics gone awry, again, and Gabby Sidibe's graceful twitter response to her haters after Sunday night's Golden Globes), I am reminded of how critical black feminism is in this moment.
Last night, I watched the second episode of Being Mary Jane, Mara Brock-Akil's latest brainchild on BET.  As you know, Gabrielle Union plays the lead role of Mary Jane Paul, a gorgeous and successful journalist who has it all on the outside looking in, but is trying to get it together from the inside out.  Unwilling to sacrifice her ambition but struggling to figure out if her desire(s) for marriage and children are truly hers or blackgirl brainwashing, she is juggling her feelings for her ex, who is not quite right (shady) and her boyfriend, who is not quite right (and, unbeknownst to her when they got involved, married).  Sound familiar?
Our lives, as black women, are not uncomplicated.  And for Gabrielle Union her real life in some ways is imitating her art.  Union recently became engaged to Dwyane Wade (who has two children from a previous marriage and custody of his nephew) despite an indiscretion that resulted in the birth of his third child late last year.  Union, who is ten years older than Wade (41) and biologically child-free, not unlike Mary Jane, is at a point in her life and career where her options around starting over (in a new relationship) and/or deciding to have a biological child are immediate considerations with real consequences.  Amidst rumors of being pregnant and harsh criticisms of her new show (including the audacity of a grown-ass black woman being a sexual being), I'm here to celebrate Gabrielle Union for doing the damn thing in her portrayal of MJP and to respect the choices she has made in her personal life.  I'm also here for the show, which unlike its alternatives (fill in the blank with whatever reality show is taking advantage of a blackgirl trying to get on, and/or scripted shows like Single Ladies that have mediocre writing/story lines and one-dimensional characters) is offering a complex drama about a black woman's life (Note I said, a black woman's life, not all black women's lives.  Black feminism reminds us that while black women face common injustices in a racist, misogynistic culture, we react and respond differently, singularly.  Mary Jane Paul is no more representative of all black women and their relationship choices, as Olivia Pope, another fabulous fictional character). (For more defense of BMJ, see this and this.)
For some reason, when we see images of well off black women on a television series we don't believe them.  That skepticism is either linked to our inability to directly relate, or the absence of race-specific  situations and/or microaggressions that are inevitable realities in black women's lives, especially affluent black women (i.e., Claire Huxtable).   Race is very much visible on BMJ, and we are watching Mary Jane negotiate issues that are very real for all women but peculiarly specific to black women.  For example, the show demonstrates black women's propensity to be made (expected to be, relied on as if she was created to be) a caregiver to every damn body, at the expense of herself.  It also shows the ways that financially successful black women, even when they are single, are relied upon to spread their wealth (literally and figuratively) to everyone in their family, to their own detriment. 
On the flip side, when we see what we assume are pathologies of black womanhood we are too quick to either buy into them or demonize them.  We revel in mess.  We are conditioned to watch shows about black women looking for what's wrong (with them, and in essence with us).  A black woman having consensual casual sex or masturbating to take the edge off does not make her loose, a Jezebel, or hypersexualized.  A black woman who is not trying to hear it when a man who has been lying to and/or misleading her, whether by omission or circumstance, attempts to apologize is not "cold," "mean," or "inherently angry."  And a black woman who gets caught up or who goes back (to a relationship) because of lingering feelings, good sex, insecurity, fear and/or loneliness, or all of the above, is not stupid.  She's human.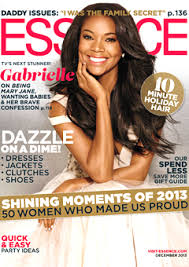 I am not saying that we should not be critical consumers of popular culture or media, or that we should not be suspicious of malicious or prototypical images of ourselves.  What I am saying is that when black women are telling black women's stories we should listen, pay attention, support and show love.  When a black woman is making a difficult choice and figuring out how to be happy, we should support them even if we don't agree with them.  In the absence of a plethora of choices, being with someone who is not quite right or being alone doesn't always feel like a choice (I'm speaking from experience here).
I appreciate that Being Mary Jane is about being a black woman hustling to make it, but it is also about the choices that are not really choices, the struggle for black women to find, love and support each other and move past competing for men.  It's about a black woman's relationship with herself, with other black women and women of color, and with black men.  Being Mary Jane is not just about being Mary Jane.  The show lets us see into the lives of the people in her life (her homegirls , her closeted gay friend, her lovers, her family members (which bleeds into why/how she is the way she is), we even get to know about the woman whose husband she is sleeping with).  We learn that her propensity for attracting men that ain't about shit is not because her father is absent (she has a good relationship with her father, the father-daughter date gave me life last night), therefore challenging the assumption that fatherlessness = desperation… even black girls with good relationships with their fathers can sometimes manage to pick the wrong person).  We learn that she is conscious of the ways in which she is seen as a black woman (through her job) and her intentionality around that, making race a visible and viable construct on the show. 
And let us not forget that race and gender matters in real time too.  Gabrielle Union is a 40 something black woman.  She's gorgeous, famous, successful and rich but those things don't protect her from the insecurities and fears that all of us wrestle with.  When she first got engaged I was happy for her, because it made me think that anything is possible at any age.  When I later realized that her engagement was sullied by the rumors-turned-confirmed reports that her fiancé had gotten another woman pregnant and had since had another child when they were taking a break (especially after reading the December issue of Essence when she talked about wanting to have children of her own), I felt bad for her because it reminded me that money and beauty doesn't keep you from heartache.
It's interesting that folk are quick to judge and shake their head at her for taking D. Wade back, without shifting that blame where it belongs, on D.Wade for cheating.  It's similar to the dynamic on the show, right?  Mary Jane is seen as a homewrecker when it was Andre who lied about being married.  Black women are often punished for the questionable choices black men make, or vilified for forgiving them, or judged harshly for not letting bygones be bygones while black men are given a pass for bad behavior or props for keeping a good woman despite being on some bullish.
Real talk, Mary Jane's life (and/or Gabrielle's) could easily be a version of my own.  Watching the show (including the movie premiere) I could see pieces of myself in her. Several scenes put me in the mind of moments and misjudgments in my own life and rather than try to attach the characters to a trope I'm wondering how the hell Akil got a hold of my diary.
I see similarities between Mary Jane and Gabrielle, and me and my  homegirls.  I'm rooting for Gabrielle (and Mary Jane) like I'm rooting for myself and hoping she gets to happy.  I think we need to stop demonizing Gabrielle for her personal choices and take a closer look at whether or not she truly has choices.  You can say you choose to be alone or celibate but is that truly the case if there are no viable options?  Do we have the agency to make choices in the absence of options?  Crunktastic has reminded me many times that black women are often faced with a dearth of choices in our romantic lives, which means we don't always necessarily have "a choice" or the ability to "choose" our partners in idyllic conditions.
In a something-is-better-than-nothing when it comes to images of black women in the media mindset, Being Mary Jane does more than most other shows do.  We are offered complex portrayals of black womanhood that are resonant, resilient and fluid.  While I have never been involved with a married man, I have, regrettably and unintentionally, slept with somebody else's man (dude failed to mention he was in a relationship until after I got caught up).  While I have never stolen sperm in an attempt to get pregnant, I, too worry about fertility issues as I get older and wonder whether or not I will have the "choice" or "opportunity" to choose to be a mother.  I, too, am ambivalent about marriage (and hell, relationships most of the time) but desire the security and ability for vulnerability that a monogamous and committed relationship might offer.  These are negotiations black women make all the time. 
So is the new show perfect? No.  But should it have to be in order to garner our support?  No.  It is what it is, which is an offering of what it is like to be a black woman from a black woman.  I don't know about you, but I appreciate the opportunity to see the possibilities unfold.
 To close, I am going to leave you with a quote from Union's fierce and fearless award acceptance speech.
…being unhappy, that's  safe and easy and that's familiar.  That's what we do baby.  We commit to misery because that's what we know.  And I decided I wanted more and that I deserved more.  And better.  From the inside out.  And I realized that real fierce and fearless women are truth-seekers.  They communicate. . .Real fearless and fierce women admit mistakes and they work to correct them.  We stand up and we use our voices for things other than self-promotion.  Real fierce and fearless women– we don't stand by and let racism, and sexism and homophobia run rampant on our watch.  Real fierce and fearless women celebrate and compliment other women and we recognize and embrace the notion that their shine in no way diminishes our light, and that it actually makes our light shine brighter.
Amen to that.