Any one that knows me, knows that I do not like the Internet. I just don't trust it. Too much of our personal information is out there and it is completely out of our control. It took me years to get a smart phone because I thought that having a smart phone would jeopardize my already limited privacy. My little sister, the tech-geek of the family, finally convinced me to ditch my flip phone and get a smart phone. Apparently, I was embarrassing her with my "very archaic form of communication." So I did. I linked it to my email account and found that to be so incredibly overwhelming that I immediately unlinked it. I spend so much time sitting in front of a computer for work already, that the last thing I needed was to be connected when I was not in the office. It felt like a good compromise…to me anyway. So, the only things I use my super smart phone for are phone calls, text messages, checking the bus schedule (yay pedestrians!), and Instagram.
Let me just say that I love me some Instagram. I follow fashion designers, fashion bloggers, foodies, celebrities, celebrity chefs, magazines, fitness personalities, and just plain ole inspiring people. Oh and Oprah, of course. I particularly love and appreciate all of the curvy bloggers out there that post the most amazing pictures of fashionable, form-fitting and affordable outfits. Indeed, Instagram is the perfect way for me to pass the time and zone-out.
There are a lot of things going on in my life right now that have me feeling down and a bit unbalanced. Lately, I have been feeling a bit unappreciated at work and have been wondering if it is time for me to move on to a new position. Don't get me wrong, there are many things I absolutely love and have learned from my job. However, sometimes you just wonder, whether or not you are meeting your full potential.  These past few months, I have just had a lot of things on my mind.
This weekend I found myself with something beautifully rare: one whole day where I didn't have any work to do, didn't have any meetings, no pending deadlines, no lunch or dinner plans…basically no responsibilities. It felt amazing. What a privilege! I could spend an entire day just doing something for me, while thinking about the meaning of life. Seriously, what a privilege! On these rare occasions that I have a large block of free time, I like to go to the nearest bookstore, buy a cup of coffee and just sit down for hours looking through dozens and dozens of fashion magazines. You see, I'm an (affordable) fashion junkie. I know it may seem random for a crunk feminist to love all things gossip and fashion, but it just makes me feel all warm inside to look at all of the pretty pictures and think about ways I can add different looks to my existing wardrobe. Most of all, sitting down by myself with a warm cup of coffee, feels like I am doing something special. Just. For. Me.
Once I got out of bed, I started surfing the Internet. Thanks to my newly found Instagram addiction, I knew I didn't have to brave the cold weather to get to my nearest bookstore for my fix of celebrity gossip, yummy recipes, pretty pictures and awesome fashion ideas: I could instead just visit girlwithcurves.com, thecurvyfashionista.com  and nytrendymoms.com. While surfing through my Instagram and these websites, I felt a new surge of inspiration. Today, I was going to find my balance. I was going to write my next CFC post about self-care, fashion, keeping positive, and making the best of what you've got. I thought I should write about all the things we can do to find happiness and motivation when we find ourselves in a professional or even emotional rut. Right then, I came across a picture of Khloe Kardashian in a beautiful fitted and long sleeve black lace dress: the Kardashian Collection – Lace Body-Con. The black dress looked so beautiful on her that I decided I should go to the nearest mall and try it on, you know for research. It would be great motivation for my new post about life, love, feminism, fashion, and all things pretty.
I follow the Kardashians and I know that their line can only be found in Sears, so I made my way to the mall. As I walked through Sears, I passed by the Electronics and Appliances sections and noticed that they had a flat screen television at a great price, as well as some humidifiers on display. I thought to myself, I have been really good about saving money and those are two things that I actually need for my apartment. I decided that once I was done shopping at the mall, I would exit through this section and purchase those items on my way back home. I went to the Women's section and headed straight for the Kardashian Collection. I quickly found the black Lace Body-Con dress along with a cute royal blue blouse to try on. Unfortunately, I was not impressed by the fit of the blouse or the dress. I put my clothes back on and went back to grab the dress in a larger size, just in case the larger size was a better fit for me. While outside of the dressing room, I spotted another cute lace black dress to try on: the Woman's Lace-Top Dress. I tried both dresses on and again just wasn't impressed by the fit. I sadly put both dresses back on the clothing rack outside the dressing room and continued to look around the Women's section. I wasn't in any rush. I could linger. I had a full day to myself, with no plans…why not?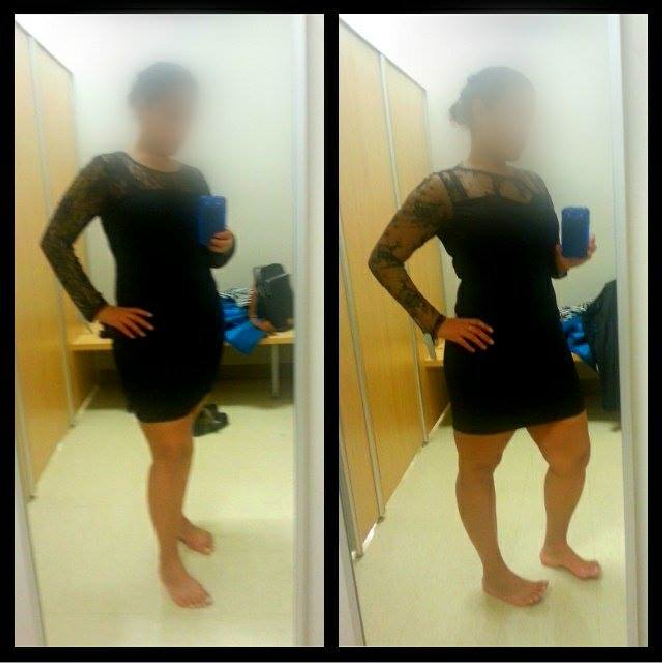 I walked around the women's section and found a really cute pair of Now + Then harem pants that I had actually been searching for on my last trip to New York City. I had been looking for these pants for months now, but I could never find a pair made with decent/quality material. They not only had them in my size but they had them in black and in a cute print. I went back into the dressing room to try these on. Both pants looked fabulous on me: flattering my figure and hugging my curves in all the right places. I went back to the rack to get an additional pair in the olive color because they just looked so darn adorable. To my happy surprise, the pants were on sale! It felt like it was my lucky day. After thinking about it for a while (and doing the calculations about how much I could not spend on groceries this month in my head), I decided that I was actually going to buy all three pairs. I deserve a treat yo'self moment. I became really excited just thinking about all of the outfit combinations I would make with these. Maybe I would even add a picture of them to my blog post!
I paid for may purchase and as I happily walked out of Sears, two white people intercepted me outside of the store: a large white man and a young white woman. The young woman said something about working with store security and said that I needed to follow her. I started walking with them in shock and disbelief and said, "There seems to be a misunderstanding." They just kept walking and motioning for me to follow. I follow them back into the store. The man walks in front of me and says, "just follow us" while the young woman walks behind me. While we are walking through the store I ask, "Why did you stop me and where are we going? The young white woman replies, "you went into the dressing room with a Kardashian blue blouse and a dress but you didn't come out with any of those items." I say, "I went into the dressing room twice. Once, with a blue blouse and a black dress and a second time with two black dresses. I left all of the items in the dressing room rack outside of the room." She continues to walk and says, "Just follow us." I say, "Okay, but where are we going and what happens when you realize you are wrong." She replies with, "We'll talk more once we are in the office." We go up an escalator and keep walking through the back of the department store to what looks like the back warehouse. Once we go past the "Sear's Employees Only" door, I start feeling really frightened. My spidey senses tell me something is about to go totally wrong. I stop in my tracks and give her the "I am not going any further until you tell me where we are going" look. At this point, I am in full-on panic mode. I am scared. I am sweating. I am confused. I am offended. I think to myself, "I don't trust these white people and do not know what they are capable of. I don't really know where I am or what is about to happen to me." My fight or flight responses are in full effect and I am having a complete physiological response to this stress. She notices my fear and says, "The office is right here." They both go into the office and I follow them in. All three of us are in the office, when two additional men of color (Et tu, Brute?) immediately walk into the room from another door in the office. I become even more frightened and ask, "Do you have any idea how intimidating this is?" The white man responds with, "We are not trying to intimidate you, ma'am." At this point, the young woman says, we need you to open your bag." I put the shopping bag on the table, open my cute pleather back pack and take out my knit scarf  – showing them an empty bag. "You see, I don't have anything!" I exclaim. Then she asks, "Are you wearing anything?" At this point, I am beyond offended, completely humiliated, and flabbergasted. I yell, "NO!" I start unbuttoning my coat to show them. The white man says, "Ma'am, you don't have to take off your coat." But I want them to see that I don't have anything, so I do. Then I say, "You see, I don't have anything! Now what?" At this she responds, "I'm sorry for the inconvenience."
I'm sorry for the inconvenience.
After accusing me of stealing; walking me back through the store like a criminal; frightening me and causing me all kinds of distress – all she had to say was, "I'm sorry for the inconvenience." I grabbed my scarf, put it in my cute backpack and walked out of the office. I may have uttered a "Fuck You." May have. I was so angry and offended and felt so humiliated that my hands started to tremble. I couldn't hold back the tears. This was incredibly traumatizing. I quickly remembered my, "you got out the 'hood and got an edumacation" privilege when I saw a store clerk outside. I asked them to call a manager for me, immediately. When the manager came to meet me, I told him everything that had happened. He was an older white man who seemed very empathetic to my now streaming tears and utter disbelief. He was very nice and very apologetic. He mumbled something about security not being on the same page as everyone else in the store and offered to give me a discount. I said no, and repeated that I wanted to return all of the items I purchased, that I wanted my money back and that I would not purchase anything else from Sears again. I also informed him that I wanted to file a formal complaint. He apologized again, took my credit card, reimbursed the charges, gave me the number to the corporate office and I left the store, still in tears.
What started out as a great relaxing and carefree Saturday full of hope and exciting opportunity turned out to be the worst shopping experience I have ever had. I decided that I will not only blog about this awful experience, but I will recount my story to anyone who will listen. No one should ever have to experience anything like this. No. One. I didn't do anything wrong. I am a grown-ass woman. I am a working professional. Shit, I works hard for the money and for goodness sake I work in the field of social justice! WTF?!
I tried on four pieces and left them in the dressing room, like I was supposed to. If the so-called security would have paid attention to the cameras they would have seen the sales associate putting the clothes that I tried on right back on the clothing racks. Store security needs to have a lot more evidence before they are allowed to humiliate someone or accuse anyone of stealing. They need a lot more evidence than the simple fact that they saw a Latina (in a fabulous and fitted teal peacoat, by the way) shopping in the store. Seriously, what was my crime? Looking fabulous? Wearing a peacoat? Wearing a cute backpack? I've worked in retail. Patrons aren't told to put items back on the sales racks where they found them. Customers are expected to put items back on hangers and leave them outside of the dressing room – on the dressing room racks – so that sales associates can neatly place them back where they belong. That is exactly what I did. Not only did I do that, but I then continued to shop! Why would anyone steal something from one section and then go and buy three items from another one? Moreover, why would I steal something from Sears? Seriously, Sears. It just doesn't make any sense. Oh, wait it does. I as a Latina, had the nerve to go into a department store and try on some cute dresses. My bad.
Let me be clear, I would not have left the mall without spending at least another $400.00, on a flat screen television and humidifier. Sears not only lost that money today, they lost a customer. They also truly ruined my carefree day.
I called my little brother in tears, telling him what happened to me. He shared an even more frightening profiling experience he had on a recent Delta flight. Unfortunately, he has been so busy with work that he never had a chance to file a complaint. More troubling is that I do not know any people of color who have not experienced some type of racial profiling. Oprah had a store clerk refuse to show her a bag in Switzerland because it was "too expensive" and she clearly could not afford such an item; Barney's had a young black man arrested for buying a $350 Ferragamo belt; and another black woman was attacked by four NYPD officers for purchasing a $2,500 Céline bag (you guessed it, at Barneys). The moral of this story: this type of shit happens everyday.
But it doesn't have to.
So, how can we stay safe as people of color just trying to live? My brother says that it is within my right to refuse to go back into any back office with security (whether at the mall or at the airport), and inform them that they can and should indeed call the police. Sadly, given that I am a woman of color in 2013, having them call the police does not console me much or help me feel like it will keep me any safer. However, I am not giving up. I am going to make a big deal out of this. I will write letters, I will email their customer service and I will be calling their corporate offices. No one should ever have to experience this. No. One.
There has to be more solid information out there about what to do when you are being profiled. I want to be ready the next time this happens or I see this happening to someone else. I did some quick research and found out that it is within my right to not follow mall security back into the store. I can tell them to call the police and have them search me and or my bags in public where there will potentially be witnesses that could advocate for me should any their practices become aggressive.
This site seemed to have good information about what to do if you are wrongly accused of shoplifting. It isn't much, but it is more information that I had before being wrongfully accused. Please feel free to share any other resources in the comments section.