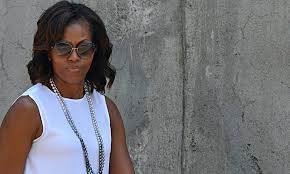 I've been reflecting, this week, on black first ladies.  FLOTUS Michelle Obama seems like an anomaly but black first ladies are commonplace in black communities.  While Obama is the first black lady of the White House there have always been black first ladies of black churches.  The wives of preachers, these big hat wearing, first pew sitting, handkerchief holding, Bible toting holy women of God are heralded for their relationship to powerful men.  The prefix attached to their name is "Lady" or "First Lady," instead of Mrs., and many a single woman believer vies for the coveted role of being the church's (and pastor's) "first lady."  For some, the role comes with strict rules and expectations.  Women who fail to live up to the conservative calling are usually called out or talked about.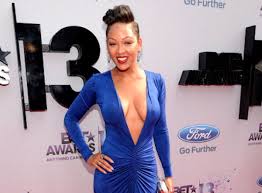 So when I was watching an episode of Preachers of L.A. (don't judge me) I was far from surprised when a group of preachers' wives (first ladies) and wannabe preachers wives-in-training (including a fiancé and "special friend") gathered together for an exclusive "First Ladies Tea" and it did not go well.  There were reads (veteran first ladies judging the young/er and/or eccentric women who did not act, look, or dress appropriately…evidently everyone knows you are supposed to wear hats and gloves to a tea… psych…I'm from rural NC, the only tea I am acquainted with is sugary sweet tea, and its too damn hot for gloves), and judgments, and assumptions, and fake ass smiles and backwards compliments ("I believe your merchandise is good"–sideeye) right before or after unsolicited advice or a preachy diatribe.  The nice-nasty exchange was intended to create a hierarchy between the women, and put the younger (or) more progressive (or) unmarried Christian women in their place.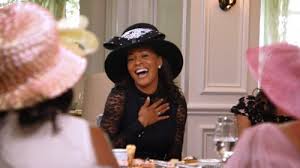 [SPOILER ALERT:  Some general points from the exchange included:  1) all Christian women should desire to be married; 2) Christian women should wait for their husband from God; 3) Christian women should not wait too long for their husband from God; 4) Pre-marital sex and/or pregnancy out of wedlock (aka "shacking"), while waiting for your husband from God, even if you plan to marry later, subjects you to Christian shaming.]
The passive-aggressiveness seeped in holiness was entertaining to watch.  It was a combination of the angst and suspicion black women sometimes feel towards each other and the simultaneous desperation to please and feel accepted.  The two "outsiders," Deitrick Haddon's fiancé, Dominique, and Noel Jones' "special friend" Loretta, had distinct reactions to the harsh judgment and critique they received.  Dominique, who became pregnant before Haddon was legally divorced from his first wife, tried to explain herself and justify herself as "first-lady-worthy" while Loretta got crunk and gave the "ladies" the business for being in her business.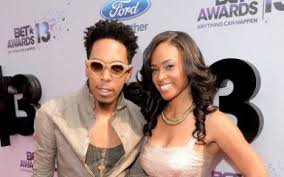 The reality TV exchange reminded me of real world manifestations of "black first lady" difference.  Old school notions of what a church first lady looks like (or how she should act) are being challenged, but so are cultural representations of who a first lady can be.
Gone are the days when a church first lady's wardrobe and demeanor is dictated by the congregation, or political first ladies in the public eye are exclusively camera-ready (white) housewives who silently stand by behind their man on podiums and limit their interests to their husband's political agenda.
In the twenty-first century we are seeing a turn in how/who first ladies are.  First lady representation doesn't look the same way it did 5, 10, or 20 years ago.  From a black FLOTUS to "a sexy Christian wife," to "activist first ladies" to "political partners," first ladies are doing the damn thing, pushing boundaries, forcing change, and being their nuanced, complicated, smart, multi-dimensional selves.
Michelle Obama is the truth for me.  A beacon of brown-skinned brilliance and hope in the midst of a lot of misery, I am routinely in awe of her reverence.  I admire the way she is able to honor her husband and herself at the same time, how she mothers her children without becoming a mammy, and the way she looks people in the eye when she talks to them, not backing down to (or due to) the vitriol folk spit at/about her out of jealousy, misunderstanding or bigotry.  I love her commitment to owning her truths and being unapologetically ALL of who she is, which is a trait that is equally true for a new highly visible and widely recognizable black first lady in politics.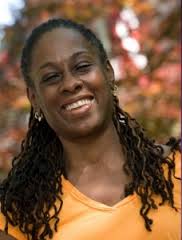 I first knew of Chirlane McCray from her poetry (and affiliation with the Combahee River Collective).  Her poem, "I Used to Think" (featured in Barbara Smith's Home Girls: A Black Feminist Anthology) spoke to my blackgirl sensibilities.  It begins:
"I used to think
I can't be a poet
because a poem is being everything you can be
in one moment,
speaking with lightning protest
unveiling a fiery intellect
or letting the words drift feather-soft
into the ears of strangers
who will suddenly understand
my beautiful and tortured soul.
But, I've spent my life as a Black girl
a nappy-headed, no-haired,
fat-lipped,
big-bottomed Black girl
and the poem will surely come out wrong
like me."
I read and recognized myself in her words and though she became less visible over the years, I was a faraway fan.  For those reasons, and others, I may have been just as proud of and excited about Chirlane McCray's rise to first ladyhood when her husband (Bill de Blasio) won the mayoral race in NYC the other night as I was when Barack Obama won five Novembers ago, making Michelle Obama the first black first lady of the United States.  McCray is a first first lady in her own right, and not because she is black, but because she is…
McCray's story is one that makes people shift around in their seats, not knowing what to say or how to react to the fact that she is a (dark-skinned) black woman visionary-revolutionist who has identified as a lesbian but is in a traditional, monogamous heterosexual marriage to a white man she met 12 years after coming out.  Her sexuality, her life, her children, her marriage, her very existence challenges hegemonic notions of normality and possibility. She is everything she once thought was impossible (a poet) and she is going to be a great first lady, bringing in the room with her numerous black woman's truths that usually get lost in translation.  She gives us an image of a first lady that is unconventional.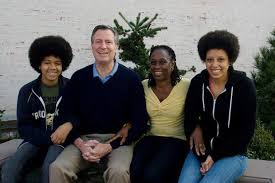 I can't help but wonder what the ladies at the First Ladies Tea would do if Chirlane McCray sat at a table with them (no tea, no shade), but I think I know what Michelle Obama would do. #highfive #weinhere #blackgirlsrock
So, yeah, while I feel some kind of way about the fact that when a woman is married to a man in a position of power she is given the title of "first lady," and I wonder why men who are married to powerful and prestigious women are not called "first men," (not to mention the fact that these titles exclude same-sex or cis- and trans- couples, folk in long term relationships who are not married and/or not interested in marriage, and single people) I am putting my politics to the side for a minute to celebrate the rise of an exceptional, beautiful, unapologetically human first lady-elect in NYC who is helping to prove that Michelle Obama is not a fluke.  The first (black) lady is/was/will not be the last!
And for your old school enjoyment, I leave you with a throwback classic joint circa 1989/90, Queen Latifah ft. Monie Love, "Ladies First." Enjoy.