Unless you've been living under a rock these past few days, you've probably heard about the kerfuffle with Our Fair Lady of Butter, Paula Deen. The quick and dirty of it all is that Deen and her brother, Bubba Hiers, are facing a discrimination suit from a former employee, Lisa Jackson, who has accused the restauranteurs of creating a hostile work environment that included racist business practices and sexual harassment. As a result of the suit, Deen answered questions in a deposition regarding the accusations in the case and it was in this deposition that Paula Deen showed her entire ass.
According to the complaint, Deen and other managers at her companies ignored Jackson's attempts to discuss Hiers' behavior. As evidence that Deen "holds such racist views herself," the complaint details an incident that occurred when Jackson was in charge of "food and serving arrangements" at Hier's wedding in 2007. The complaint includes a comment Deen allegedly made when asked by Jackson what type of uniforms the servers should wear at the wedding.

"Well what I would really like is a bunch of little niggers to wear long-sleeve white shirts, black shorts and black bow ties, you know in the Shirley Temple days, they used to tap dance around," the lawsuit claims Deen said. "Now that would be a true southern wedding, wouldn't it? But we can't do that because the media would be on me about that."

In her deposition, which was given last month, Deen denied  many of the allegations against Hiers and addressed the alleged comment about his wedding. Deen said she remembered telling Jackson and another employee about a restaurant she went to with an exclusively African-American waitstaff that she wanted to emulate, but was worried about the potential reaction. Though Deen admitted to using the phrase "really southern plantation wedding" she denied having said the N word. (Source)
Of course Miss Paula not only got roundly denounced in the media, she got dragged within an inch of her life on the internets. Awesomely Luvvie and Kid Fury and Crissle of The Read had me rolling. But let me tell you about the hearty guffaws I experienced reading Twitter (on Junteenth, no less!). Between #PaulasBestDishes, #paulawontcookit, and #PaulaDeenTVShows, I died and then was resurrected several times. I got my entire life. I mean "Nat Turnip Greens" and "We Shall Over Crumb Cake" ?! If Black Twitter is wrong, I don't want to be right. Remember what sister Zora said about black people and the "adornment of language"? This is it!
Then your girl PD went on damage control and issued a series of rambling apologies that expressed how truly sorry she was for getting caught.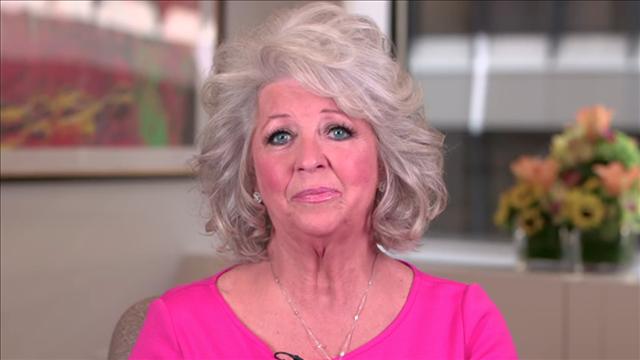 Chile, please. She can keep her deep-fried apology.
Of course there has been the inevitable backlash by Deen's supporters, folks who think she shouldn't have gotten fired should have gotten her contract renewed, and the usual suspects who think that "Black folks are too sensitive" and are "hypocritical" because "we use the N-word too."  I would tell them to go have a stadium of seats, but I am too busy laughing at some of their shenanigans. For example,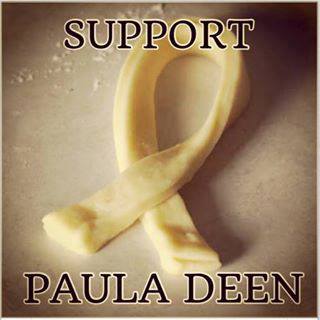 I do not feel at all guilty for laughing this woman to scorn, especially considering the millions of dollars she has made and is yet to make. Yes, yet to make. This uproar will die down eventually and she'll get back to selling deep-fried butter in no time.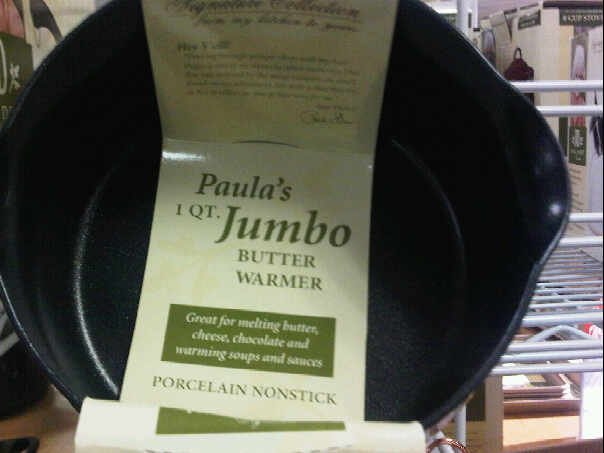 What I do feel is missing from a lot of the conversations around Paula Deen, though, is what is really at the heart of the matter: the discrimination suit and what it alleges about Deen's workplace practices. See, several more folks have come forward accusing Deen and Hiers of discrimination. Apparently,
Deen "preferred white and light-skinned blacks to work with customers" and that darker-skinned blacks were relegated to "back-of-the-house operations"…employees have been reluctant to talk [Rainbow/PUSH Coalition] about their experience with Deen because they fear retaliation. (Source)
Understanding how institutionalized oppression works and having worked in a few hostile work environments myself, I understand how scary it is to call out the powers that be and to stand up for oneself. There's a lot to lose. So, it is no small thing that folks are coming forward and exposing what seems to have been a workplace shitshow.
This has the potential to be a productive moment to have a conversation about race, class, gender, sexuality, and accessibility at work, to discuss fair labor practices, and to support organizations that are in the trenches advocating for workers' rights. Also, rather than being reactionary about being called racist (I'm talking to you Miss Paula), folks could try not being racist. A pipe dream, I know. Bottom line, I'm suggesting we keep our eyes on the prize and not forget the systemic issues that make Deen's alleged behaviors not only possible, but also endemic.
What's your take on the Paula Deen situation?