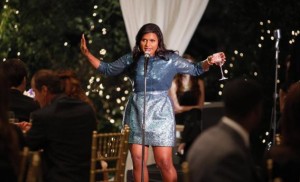 Mindy Kaling is a boss. Widely regarded by her coworkers and by critics alike as the best writer for the popular sitcom The Office, since September she's been staring in, writing, producing and directing her own primetime TV show, The Mindy Project, which just wrapped up its first season and has been picked up for a second. The Mindy Project is the first TV sitcom staring an Indian-American: definitely an historic achievement. Importantly, just a few days into the start of the season, trolls, in the form of TV-critics-who-write-under-cover-of-internet, lost their collective minds and began harping on Mindy Kaling's smug and self-satisfied nature. In a twist of what amounts to the most ironic of ironies, that bastion of independent thinking and critical analysis, Gawker, called Mindy the "human equivalent of a retweeted compliment."
Writer Nisha Chittal wrote a great piece for Racialicous in which she breaks down the root causes of this tedious and predictable resistance to Mindy's success, comparing it to the kind of response given to young white women leading a show:
When Lena Dunham launched Girls, Dunham was praised for creating and portraying a character not typically seen on TV screens: a young, post-college, average-looing, single woman with romantic woes, whose flaws and insecurities are on display. Kaling portrays a similarly flawed character, but has not received the same praise. Bloggers and critics hailed Dunham's characters as relatable, real women. But I haven't seen one critic yet say "I can see myself in Mindy's character," the way many described the appeal of Dunham's Girls. 
Now, I don't watch Girls, largely because I really cannot see myself in the characters in the show nor are their lives particularly interesting to me. I reference it as a way to illuminate the racism and misogyny that Mindy Kaling continues to face, despite her talent and obvious work ethic.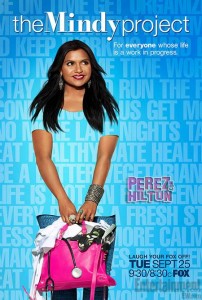 So, there are a lot of reasons why I watched this entire first season of The Mindy Project. First, the almost immediate emotional sigh of relief to see an Indian American woman on TV, being beautiful and funny. Being beautiful, funny and not playing a deranged sex kitten or terrorist (or both, simultaneously). Being beautiful, funny and not tokenized as the sassy best friend, or tragically comic office-mate (I love Aziz Ansari with the fire of a nova, but we still don't know Tom Haverford's real name after six seasons of Parks and Rec.). That kind of existential relief can only be felt in contrast to the otherwise ubiquitous feeling of never seeing someone that looks like you or your family on TV, save for the times you can count on one hand.
Then there's the boss factor. Both Mindy Kaling and Mindy Lahiri (her character on the show) are confident badasses – a characteristic I love and relate to. Women who clearly love their jobs and their friends, and are unapologetic feminists are the stuff of my dreams. Note, here, that I haven't yet said anything about Mindy's body, though it is oft discussed as something revolutionary about the show. Which is a commentary on Hollywood and it's inability to think of "leading ladies" outside a very oppressive and narrow set of body parameters. Mindy Kaling is not unusual looking. She's strikingly beautiful and rather small, actually.  There's not much more to it than that. But I will say that she is unusually fly, some of those outfits are the absolute freshest.
So I took a deep breath, thanked goodness for Mindy, plugged in and began to watch the show. It is not long before I laugh. She's loveable, and a little nutty. It is also not long before I cringe. In the fist episode of the season, Mindy (Lahiri) makes a disgusting "joke" about women in burqas (nevermind that the woman in the burqa is not actually wearing a burqa, but a headscarf). Now what? Well, actually, I stopped watching the show. It wasn't until several months later that I returned to the series on Hulu and made my way through the next several episodes, at one sitting.
I have watched the season like that, in a couple of sittings, a few episodes at a time and pretty quickly realized that the show has an uncomfortable, and painful-to-experience, relationship with race. Mindy Kaling has said that she finds the racial tensions between different minority groups to be fertile joke-ground. I disagree, both because usually, I don't find low-brow race-based jokes funny, generally speaking (humorless feminist alert), but also because I don't find the show's execution of those jokes to be funny.
I acquiesce to the limitations of this analysis, however, knowing that Mindy Kaling's job is not to represent me, or any or all other Desi women. It has, regardless, become clear to me that Mindy (Lahiri)'s feminism is not of a piece with mine, really, at all. My feminism is intersectional, radical, angry, loving and queered. Mindy's seems to be about being traditionally successful and occasionally, sexually bold – not bad, per se, but limiting. I love the fact that she loves her female patients and is a wonderful doctor. I cannot stomach, however, the repeated and diverse forms of self-loathing the character performs in regards to the fact that she can't seem to get and keep a man. And worse still, how bad she feels about herself in that context.
Further, the show does not take these moments to shift the narrative about what women want/should want and need in heteronormative relationships. There's nothing revolutionary about 'you'll find someone, someday' and 'you deserve, better.' Especially given that this first season is largely about her being left, repeatedly, by a gaggle of white men beaus. Now, there's nothing wrong with "having a type," but let's not willfully delude ourselves into believing that our notions of what is sexy are not influenced by a mortifyingly racist, sexist, classist, ableist society.
In this context, I return to Mindy's looks and weight. Her weight and looks are something that she herself, and her character on the show talk about quite often (in the first episode, one of Mindy Lahiri's coworkers suggests, quite heartlessly, that she lose 15 pounds if she wants to look good). I've not seen a single interview with Mindy Kaling where she hasn't self-deprecatingly mentioned the fact that she's not conventionally gorgeous. This, for me, is exhausting, and mostly so because it is not accompanied by an analysis that critiques those standards of beauty – just by one that wistfully concurs: Mindy (Kaling and Lahiri) might not be beautiful enough.
I realize that I'm being quite hard on she show, expecting a lot from it and from Mindy Kaling herself. Perhaps even too much. I also realize that I cannot expect any given South Asian woman to share my experience, political lens and perspectives completely. As Mindy Kaling herself noted, on NPR, this is not a burden put on Steve Carell, for example, to represent all white men:
As an Indian-American actress playing a lead on a TV show, Kaling says, she's gotten positive early feedback but still feels the burden of people pinning "their hopes and dreams" on her. She says she just has to brush aside her worries, because Dr. Mindy Lahiri is a "real character."
That I lean forward when I see women of color on primetime and hope that they will offer me a respite, a space to both see and be seen as a full(er) human being, is the lesson here. It is, notably, a function of the dearth of relatable characters and a tragic commentary on the state of mainstream Hollywood representations of women that I yearn in this way. That perhaps, is the central node of my anguish, and it has very little to do with Mindy (Kaling or Lahiri): it has to do with living in a world that refuses to do just that. To acknowledge my complexity, to acknowledge my skin itself, to encourage me to foster a sense of self free from racist implications. A TV show can't do that, of course, but it can certainly help. It can certainly do better.