One of the most controversial posts we've ever had here at the blog was called Single, Saved, and Sexin': The Gospel of Getting Your Freak On.
In that piece, over two years ago, I argued:
Sex is a form of creative power. And it is in the literal fact of its creative aspects that we feel alive, fully human, and connected. I think God wants nothing less than this for us, and that requires regular, intimate connections of bodies, or at the very least a very regular, intentional and unapologetic intimate connection with our own body.
So sex is back on the table for me in an emotionally safe intimate connection with another person. Because marriage or no, I am clear about this one thing: celibacy is not for me. I need connection. I need intimacy. I need sex. Period.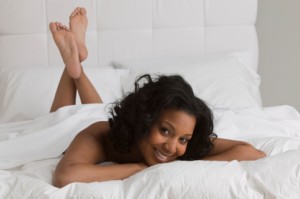 I know from that experience that I touched a real nerve. That's why it's been two full years since I have returned to this conversation. Take a look at the comments section (but only if you are brave, prayed up, and have some sage at the house.)
What I saw in those comments was fear. Fear of offending God and bringing God's wrath. In fact, I spent a whole weekend on Crunkadelic's couch trying to make sense of the backlash (turns out Church folks can be really vicious, especially when they think they are doing it for God).  But mostly I was disappointed at this unhealthy relationship that Black women have to our theology.
How have we come to think our desires have no place in the Kingdom of God? If that is true, how is the Kingdom of God any different than say, American Slavery, which taught us that we were first and foremost the property of someone else, to be used for their pleasure, our sexual needs and desires totally both subordinate to and in service of someone else's needs and wishes.
I absolutely understand the conservative evangelical church's teaching about being in total submission to God's will, trying to conform our desires to God's desires, and trusting that God's plan is better than ours. Yet, God is a relational God to me,  not a dictator who sits on high meting out rules and punishments.
No, I don't have all these deep theological and philosophical questions figured out.  I am not a theologian. What I am is a person who deeply loves God and who God has been to me. What I know is that that God has invited me to ask my questions, to get honest, and to struggle in the community of faith over what it means to be a fully grown Black woman.
As a Black feminist, I know that as we attempt to create a new politics of pleasure in Black feminism, we must address the role of religion and spirit in that process. The politics of respectability is so deeply bound up with Christian theology, that "de-tangling" these interconnected strands will be a freeing project for us all, even those who don't identify as Christian.
So this post is the prelude to getting that conversation started.
Tomorrow night, Friday, March 15, 2013, at 9:05 pm, we are going to host a live Google Hangout on this topic.
I'll be chatting with three fierce, progressive, feminist ministering women who can give some critical perspective on these issues.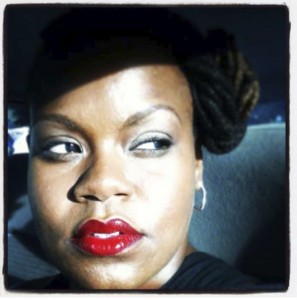 Theresa serves as an Associate Pastor at a progressive and reconciling United Methodist Church in Washington, DC. Growing up on the Mississippi Gulf Coast gave her an appreciation for music, art, culture, and theology. Theresa attended Howard University and continued her studies at Duke Divinity School. Theresa's areas of interest are intersections of theology, sociology, and organizational systems.
DC oftentimes feels too busy and noisy, so in order to feel at home, Theresa spends her time connecting with people through music and storytelling. When she's not teaching a class or thinking about organizational systems and development, Theresa enjoys listening to music (she has close to 5,000 songs on her iPod) dancing, listening to podcasts and reading. However, her most important and most fulfilling role is being AuntieMommie to her 10 year old nephew.
Rev. Arabella Littlepage was born and raised in Huntsville, AL and now resides in the Washington, DC metropolitan area.  She earned a B.A. in Political Science from Howard University in 2003.  She was ordained a Baptist Minister in 2010 after earning a Master's of Theological Studies from Wesley Theological Seminary in May of that year.  She currently serves as an Associate Minister at a local Baptist Church in the DC metro area.  Her ministry interests include equipping people to think constructively about one's life with God in community, studying and teaching contemplative spiritual practices, and facilitating retreats.  In addition to her work in ministry, Arabella is an avid knitter and scrapbooker.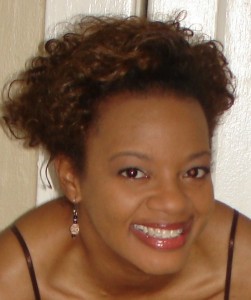 Dr. Candi Dugas is an award-winning writer and practical theologian whose progressive insights challenge how we think about faith, freedom, and justice. Author of two published books and more than 20 regionally produced stageplays and skits, Candi's latest projects include her most recent book, Who Told You That You Were Naked? Black Women Reclaiming Sexual and Spiritual Goodness and her first screenplay, Desire's Kiss, which celebrates feminine sexuality in the context of faith.
A graduate of Columbia Theological Seminary (Decatur, GA) with a D.Min. in Christian Spirituality, Candi also holds a M.Div. in Homiletics/Worship and Hebrew Bible from Gammon Seminary/ Interdenominational Theological Center (Atlanta, GA) and a B.S. in Public Relations from the University of Florida (Gainesville, FL) – GO GATORS! She is a member of the Dramatists Guild, Working Title Playwrights, Atlanta Screenwriters Group, the Church Within A Church Movement, and the Interfaith Community Initiatives.
One of the few Atlanta natives left, Candi enjoys hanging out with friends and family, especially her daughter, Jordan — along with mountain vacations, dancing, and driving sports cars. She dreams of opening retreat houses that create physically safe spaces for possibilities, peace, rest, revelation, thought, truth, healing, and wholeness.
Time

: 9:05-10:05 pm EST
Date

: Friday, March 15, 2013 — Be there!
Tweet us

: @crunkfeminists
Post questions

:  Facebook, here in the comments section, or on Youtube during the convo.