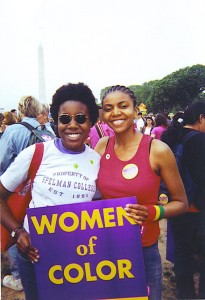 "You are magnificent." So read the final line of an email I received from the CFC's Moya Bailey the first Friday of 2012. The subject line was, "Love for you in the new year!" It recalled the summer we became friends and its consequence on her journey. She offered thanks and called me by a name I still shrink from.
We met ten Junes earlier in Harlem. We both were attending Kevin Powell's HipHop Speaks! event at Riverside Church. She wrote I said hello. I remember that being the first of many summer days we sat together. Wee hours talking on the steps of Union Square are what I mostly remember and dancing to Donnie at Brooklyn Academy of Music's R&B Festival at MetroTech. She insisted on the genius of his debut, The Colored Section. I remembered the roar of Atlanta's Yin Yang Café when he sang and underage-I checked IDs at the door but I was dismissive. I have always preferred pretend aloofness to exclusion.
We both had our dragons to slay. A few remain at my neck and, to their fiery breath, I will attribute my recent hair loss. To Moya, I will attribute unconditional love. Ever open to people and process, she has modeled courage. Ever-embracing, she has made me feel like enough even when I was a mess. It is good to know Moya and I call her name in celebration of sisterhood. I call her name because she constantly calls me and you to justice whether in her blessed company, in her brilliant classes, in this crucial collective, in her activism, in her writing or her epic good-time making.
This is how I celebrate Women's History Month. I call magnificent the women who have worked miracles in my life from Mom to Moya, Geneva to Aisha, L'Erin to Kristel, Iquo to Simone, Sunanda to Courtney, Brooke to Amy, Devin to Marcia, Kimerie to Maxine, Gabby to Xenia, Jane to Velma, April to Kristen, Frances to Lynn, Nzingha to Elizabeth, Ebony to Malika, Alysia to Teresa, Evans to Jamila, Camara to Kandia, Ruby to Roberta, Sister Bisi to Tarshia, Kyra to Lyneka, Taneya to Tiona, Sabrina to Laylah, Ana to Adom, Gwendolyn to Georgia, Spelman College to Imani House and the gratitude goes on. The full can never be told but I will not stop trying and I invite you to do the same in the comment section, in an email, a blog post, a Tweet, a Facebook status or even an old-fashioned phone call. Spread love, it's the feminist way.
thank you: a women's history month mix
mixes by jalylah
"Miss Celie's Blues" Tata Vega
"Giving Something Up" Amel Larrieux
"Lag Time" Ani DiFranco/ "Crutches" Nikki Giovanni
"My Crew" Jean Grae
"Apple Tree" Erykah Badu/ "Apple Tree" [Live at Black Girls Rock] Erykah Badu
"Bad Girls (Switch Remix)" M.I.A. feat. Missy Elliott and Rye Rye
"Run The World (Girls)" Beyonce
"Estragen" Apani B-Fly Emcee feat. Ayana, Helixx, Heroine, Lyric, Pri The Honey Dark, What? What? & Yejide Apani B-Fly Emcee
"Grandmother And Mother's Legacy" Radmilla Cody
"Black Mona Lisa" Lamya
"Star" Janelle Monáe
"Cinderella" The Cheetah Girls
"Making Friends: Episode 1" Chelsea Peretti
"You've Got A Friend" LaBelle
"Kind & Generous" Natalie Merchant
[STREAM/DOWNLOAD]
This mix is no longer available.
*Special thanks to Eesha Pandit. It was after receiving her International Women's Day tweet of gratitude to members of this collective that I decided to make this mix.
Jalylah hosts the radio program There Ought To Be More Dancing  on WYBC Yale radio.