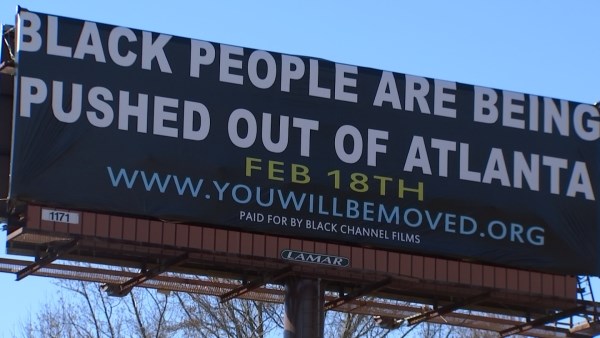 Safe, affordable housing is a fundamentally feminist issue and, without a doubt, a fundamental human right. Yet so often access to safe and affordable housing is a struggle for many of our most vulnerable communities.
My hometown of Atlanta is a rapidly gentrifying chocolate city with huge wealth disparities. In fact, the city has the dubious honor of having the highest income gap between rich and poor in the nation.  Low income people of color have been increasingly pushed out of the cities into the under resourced suburbs as middle and upper-income whites strongarm their way back into the city. That means property taxes and rent prices have skyrocketed in many neighborhoods, making it impossible for some longtime residents to stay in their homes.
So many of us have been personally affected by the issue of safe, stable, and affordable housing. My fellow CF, Crunkadelic, grew up in Section 8 her whole life up until college and knew it to be a lifesaver for her family. When her mother was making 10, maybe $11000 per year working fulltime as a nursing assistant or in retail, having reduced housing options was the difference between having the lights on and food in the fridge and going without. Her story is far from singular.
So when I learned that the Atlanta Housing Authority was finally reopening the Section 8 Housing Choice Voucher waitlist I was thrilled.  The waitlist has not been open in years and housing is a critical need–especially for women, POC, trans and queer folks, people with disabilities and people earning low or no wages. Unfortunately, however, the rollout of the waitlist has been plagued with problems.
Take, for instance, the online application. For many of us, an online application is great because we can complete the application on our smartphones while also doing something else, like shopping at the grocery store. Yay for multitasking! But for many others filling out an online application is way more daunting. Like when I visited a good friend at the Westside Resource Center, where they provide free access to computers with Internet in communities where homelessness and stable housing is a major issue. So many of the people who came in to complete the Section 8 application online could not work a computer mouse, didn't know what a dropdown box was, and to them the phrase "scroll down" meant nothing.
Plus, if they had an email account, they didn't use it enough to know the password to ensure they got the confirmation number at the end of the transaction. They needed one-on-one support to complete the application and oftentimes to set up an email account. So, on the one hand, I was happy these folks were getting the help they need, but on the other, I was unnerved. If my mother, for example, had to apply for a Section 8 voucher, now she would have to know how to use a computer, how to scroll, and have an email account (in addition to a phone number and an address). Many folks in our most vulnerable communities who lack computer literacy may not have the one-on-one support that would enable them to complete this vital process, which presents a major stumbling block in their path to stable and affordable housing.
Besides the issue of the online application, the voucher application is only open for one week. This one-week window wouldn't be such a big deal if Atlanta provided an abundance of affordable housing or if people were earning enough income to afford all the new luxury rentals and homes getting built around the BeltLine. But ATL doesn't provide it and we can't afford them. Women "head" the majority of Atlanta's households, almost half the residents earn less than $50,000 annually, nearly a third of the population pays more than half their income towards rent, and much of the available housing is half a century old. Housing is major. Gentrification is rampant and because this Section 8 rollout is plagued with problems, I fear that many folks who need the help the most will left behind due to mismanagement and neglect.
But we can resist this juggernaut of gentrification. Here are six ways folks looking for affordable housing or who want to help others find affordable housing in Atlanta can Get Crunk:
    APPLY  
Apply for the AHA Section 8 Housing Choice Voucher Waitlist at www.ahawaitlist.org.
    AMPLIFY
Tell all your housing insecure folks in Atlanta to go to www.ahawaitlist.org.
Then tell a few more people. Tweet, snapchat, FB, instagram, email, call, knock on the door, or whatever you have to do to get the word out!
     VOLUNTEER
If you are computer savvy, volunteer a few hours to help at local recreation centers, libraries, and resource centers between now and Tuesday (March 21st) at 5pm. Remember to be patient with those who are not comfortable with computers!
  

Link to AHA computer and internet access sites:
 http://ahawaitlist.org/Access%20Sites.pdf
  

Link to Westside Communities Alliance resource center hours  http://westsidecommunities.org/2017/03/09/westside-resource-center-hosts-aha-housing-choice-voucher-registration/
    MEET AND GREET
Print this flyer [http://ahawaitlist.org/Access%20Sites.pdf] and go out to grocery stores, MARTA stations, recreation centers and parks, bookstores, wherever the people gather put the information in their hands and encourage them to apply immediately.
    TAKE THE TECH TO THE STREETS
If you are really about that life, get a crew of friends with tablets and phones (who ain't scared) and go sign people up on the streets. If it's okay to use tablets to "study the people," we can most certainly make technology work for those very same people who need access most.
    REPORT BACK
Report back on our social media so we can document what a crunk community can do!
There is no time to waste!!! Get active NOW because once the waitlist closes this Tuesday, March 21, 2017 we don't know when it will reopen again. And who knows what "alternative housing programs" will exist under Ben Carson and President Drumph.
Get Crunk!