We at the CFC believe that our work crosses issues and borders. We believe that transnational feminist solidarity is a key element of feminist praxis for those of us who live in the US. We have much to learn from and share with feminist thinker and organizers from around the world. Over the month of April, to commemorate the first ever Dalit History Month, we will be sharing with you a series of posts to raise awareness about the history and organizing done by the Dalit community, in India and abroad. In coming weeks we will be sharing Dalit feminist voices here at the CFC. We hope that through this collaboration with the Crunk Feminist Collective and Dalit feminists from Dalit Women's Voices in collaboration with Dalit History Month and the Dalit Women's Self-Respect Movement we will spark more conversation about caste in India, and the consequences of the Indian caste system. 

Today's post is about Dr. B. R. Ambedkar, the chief architect of the Indian Constitution, a Dalit scholar and statesman. While many of us know the names of Mohandas Gandhi and Jawaharlal Nehru, Dr. Ambedkar's name is often omitted from the story of India's Independence Movement. He was a radical voice against the caste system, and today's post here at the CFC will explain his significance to Dalit activists and the fight against caste injustice. 
Guest post by: Sanghapali Aruna Lohitakshi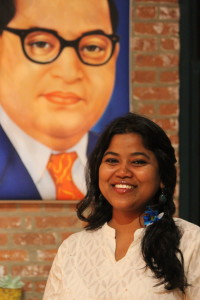 For almost twenty years I remember celebrating just one day every year.
It wasn't my birthday,
It wasn't Diwali,
It wasn't Christmas,
It wasn't even New Year.
For us that day was in fact like all of those holidays and even more. We would wait anxiously till its arrival. And when the day came it would bring us new clothes, and my mother would cook payasam, a sweet porridge, and we would go out to meet friends, relatives and attend programs.
It was special because we celebrated the immense power of our freedom, dignity, and self-respect.
This day is April 14th, and we call it Ambedkar Jayanti, which commemorates the birth anniversary of one of our most powerful freedom fighters. His name is Dr. B.R. Ambedkar and he was a Dalit scholar, jurist, philosopher, feminist, anthropologist historian, orator, writer, and economist, And while he is a founding father of India who drafted  the Indian constitution, to Dalits like myself he is so much more intimate a figure. He is our Babasaheb, a name that denotes our affection for him as our political father.
Babasaheb is an ideal. A role model who despite the violence of caste apartheid did not take up arms to bring justice to the people. His weapon instead was education. To know oneself as a Dalit in a system that says you are beneath worth is arduous. For you have to build all the models you need to believe in your own dignity even as every institution around you says you have none. His pursuit of self-knowledge and its companion challenge to the caste institutions around him deeply inspire us to also do the same. And as he communicated his journey as a thinker, activist, and later as Buddhist, his pen became his weapon to change the lives of millions of Dalits.
Despite his significance, Babasaheb rarely figures in any of the academic discourse about Modern India. This omission is not accidental. It is because a Dalit Founding Father of India is too subversive an idea in caste apartheid India. Because if he is taught we must teach also about the system that attempted to block his and all of our communities progress. And the lies that prop up the other casteist founding fathers of India will be brought to light. His intersectionality confronts the homogenization of caste apartheid.
Ambedkar then is an anchor in Dalit History. For we can associate all of the powerful leaders and movements that converged in the opportunity of his leadership and all the movements and leaders that have been transformed after his intervention in the destiny of our nation.
It is in this spirit that on Ambedkar Jayanti I want to share with the Crunk Feminist family some short excerpts of Dalit women who talk about why Dalit History is significant.
"I feel the creation of the Indian constitution is one of the significant events in the Dalit history. It is the first legal document that has criminalized caste discrimination and untouchability .It is a matter of pride then to be part of that Dalit milestone for it is a reminder that Dalit history is a history of assertion. It is a revolution for equality and justice." – Ashwini, Doctoral Fellow at JNU, New Delhi
"In the age of colonization of knowledge, if we, as Dalits, don't write our own history, it will be distorted or erased by others. When I started writing this, I could place all my family stories in a context, How my grandmother was inspired to be the first educated woman in the whole village. How my grandfather loved Ambedkar and taught himself to read just so he could read his works."
Our people have to rise up then in action to write away the disgusting appropriation. In the advent of  Buddhism, and the fierce and merciless way in which Brahminism sought to suppress it in the subcontinent, we have  over centuries a testament to the fact that an egalitarian parallel spiritual space existed for Dalits that  dreamed of a better world. And this space mobilized our people and gave us dignity and in doing so threatened the Savarna hegemony." – Dr. Vee Karunakaran Dalit History Month Collective, Boston
"Indian school curriculum only focuses teaching about Gandhi, Nehru, queen Laxmibai, hindu gods and festivals. It is difficult to associate with the history classes that focused solely on the history of the oppressors written by the oppressors for the oppressors, especially when you know that you are the oppressed."- Sanghapali Aruna, Doctoral Fellow at JNU, New Delhi
"What has been really powerful for me in this re-writing of Dalit history is the discovery of so many strong role models of Dalit women and men that I could aspire to become. Coming across the heinous crimes and atrocities committed against Dalits in this country for so many decades now, was also a very painful experience. But what was also very transforming was the realisation that the history we as Dalits have is not just one of victimhood and survival, but of relentless resistance and unshakeable resilience." – Christina Dhanaraj, Dalit History Month Collective, Bangalore
"The systematic elision of the experiences of the marginalised through selective listening and selective deafness has left an impact of silencing of our voices and that of our elders, especially in conversations with the mainstream. We never had any space to celebrate our own success within ourselves and so "furthermore, the richness and uniqueness of our lives and their contributions to the lived realities of this world would be lost if we do not record them.
We need to tell our stories, write our histories and herstories, and leave footprints on the sands of time."-Cynthia Stephen, an activist, independent writer and researcher
I invite all of you then to continue with us on our journey of self-knowing and self-determination. And in doing so remind everyone of the subversive power of dignity. As we say in our movement, Jai bhim. Jai Bhim meaning we salute you in the footsteps of our beloved Babasaheb and move forward in our caravan for freedom.
###
Sanghapali and Dr. Ambedkar