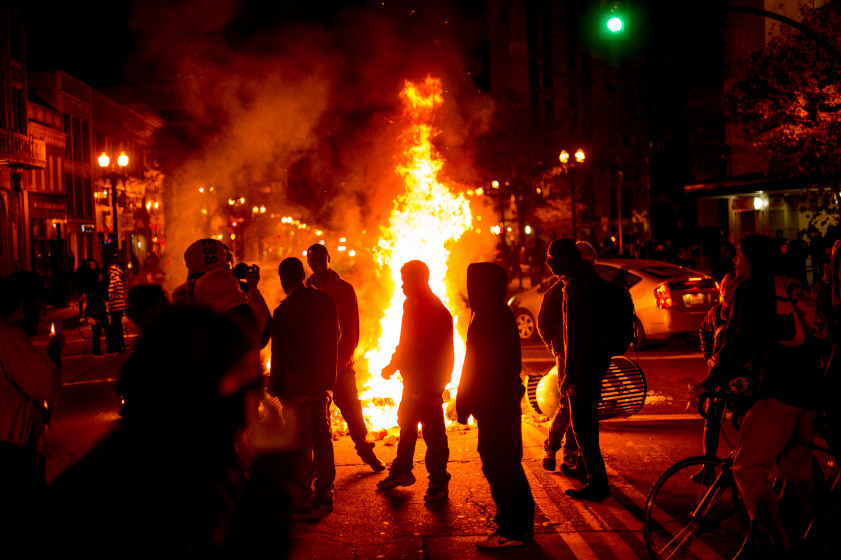 We are numb. We are angry. We are incredulous. We are afraid. We are hopeful. We are hopeless. We are all the things. Let us be.
Our hearts go out to Lesley McSpadden and Michael Brown, Sr. and all of Mike Brown's loved ones.  We are holding ourselves and our loved ones closer still. But some awful truths remain.
Among them are the facts that today Marissa Alexander is in jail, but Darren Wilson is free.
One fires a warning shot against her abusive ex and, as a result, faced upwards of 60 years in prison. The other repeatedly shoots an unarmed youth, 18-year-old Mike Brown, suffers the tiniest of bruises, and won't even be charged with a crime.
This is the state of our (in)justice system.
If it wasn't clear before, it's clear now. We were never meant to survive. The near daily murders (every 28 hours, that is) of Black folk by law enforcement and vigilante hunters let us know our place in this society. We are to be silenced, erased, destroyed.
Still, we won't bow down.
When President Obama says he wants us to adhere to the rule of law—he means the lynch law. And when he advises us to practice restraint he means for us to bow down to white rage.
Darren Wilson, a fully-armed and presumably trained police officer, said that Mike Brown, an unarmed teen, was like a "demon" and "Hulk Hogan."  Wilson was incredulous that Mike Brown would be angered by being shot at—imagine that? I guess it's as Kiese Laymon says: "Darren Wilson literally said Mike Brown was a superhuman who could walk through bullets in his deposition. Read it. That's why he claims he had to shoot him in the head. He believed that black boy was a nigger, a sorta sentient being embodying both sub-humanity and super-humaness."
White supremacy doesn't mention the fact that Darren Wilson is 6'4 and weighs over 200lbs his own damn self.
White supremacy would have us think that white rage trumps Black life.
But as my sister Crunktastic wrote over at Salon, "Humans can only be sucker punched for so long. Humans can only have the life choked out of us for so long. Humans can only be kicked in the stomach while your foot is on our neck for so long.  Humans can only be bullied for so long. One day we stagger to our feet, and you see reflected back to you the results of your own unresolved monstrousness."
We won't bow down.
Both racists and well-meaning folks will pull out some tired MLK quote about pacifism as way to shame us into silence, to focus on our attention on the destruction of property rather than on the destruction of life.
These calls for restraint and grace are utter and complete bullshit. If whites only knew the level of restraint and grace that Black people employ on a daily basis, their minds would be blown. The fact that we haven't burnt this mutha down already is a testament to our grace.
Remember what King said about riots, that they are the "language of the unheard."
We won't bow down. We rage.
Today rallies and protests are happening all across the world. Check out the Ferguson National Response Network for more information on gatherings in your area.
Many have called for boycotts of #BlackFriday and #CyberMonday. Hit them where it hurts—in their wallets.
Want to contribute in other ways, but haven't figured out how? Join the organizing efforts taking place all over, from #BlackLivesMatters, to Southerners on New Ground, to the Organization for Black Struggle, to the Dream Defenders, and so many more in your local areas. This is not just a moment, but a movement for liberation.
Let's continue to love ourselves and love on each other. Taking care of ourselves in this climate is absolutely revolutionary.