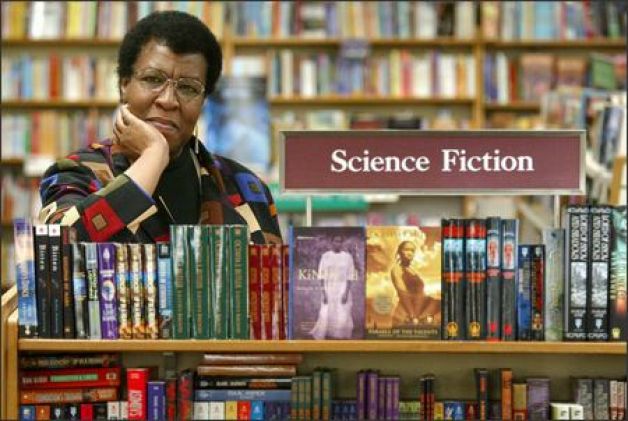 Dear Octavia,
Yesterday, it was your birthday. Happy birthday, dear! I've been missing you a lot and thinking about you a lot lately, especially since there's a newly discovered crop of your short stories. I feel like that was a gift for all of us.
Your work has continually been a gift to me and, though you have transitioned to being an ancestor, I want share my appreciation for you life and your work.
I've been a fan of science fiction and fantasy since I could read. Reading about lords and ladies, outer space, and other fantastical things were crucial to my development growing up. It gave a girl from hood license to think, dream, and build beyond what I could see in front of me. But by the time I became a teenager, I was wondering, "where are the Black people"? in all the stories I devoured. I started reading more Malcolm X than Robert Jordan or Anne McCaffrey and my love affair with speculative fiction waned.
One fateful trip to the library (this was a very lucky trip, because I also discovered Julia Alvarez's How the Garcia Girls Lost Their Accents that day), I ambled into the sci-fi section and was stopped dead in my tracks. There was a book with a Black woman on it. I'd never seen a science fiction book with a Black woman on it. The book was called Parable of the Sower and it changed my life completely. I had already started scribbling my own little sci-fi stories, but reading this brilliant book that was well written, fascinating, terrifying, and thrilling inspired me to really think of myself as a writer. Thank you.
A few years ago, I was reading your essay "Positive Obsession" and the following quote really stood out to me. You wrote:
What good is any form of literature to Black people? What good is science fiction's thinking about the present, the future, and the past? What good is its tendency to warn or to consider alternative ways of thinking and doing? What good is its examination of the possible effects of science and technology, or social organization and political direction? At its best, science fiction stimulates imagination and creativity. It gets reader and writer off the beaten track, off the narrow, narrow footpath of what "everyone" is saying, going, thinking – whoever 'everyone' happens to be this year. And what good is all this to Black people?
Thank you for explaining my lifelong love. Thank you for writing works that transform hearts, minds, and worlds. Thank you for providing a possibility model for Black feminist brilliance.
Thanks you for your words and your work.
Love,
Crunkadelic