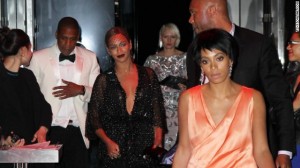 Earlier this week, TMZ released the now infamous elevator video of Solange going HAM on Jay Z.  The responses have been swift and the memes have been hilarious.  I'm a let y'all finish but, there are a few things missing from the conversation.
First of all, Solange was dead wrong.  Now don't get me wrong, I am a huge Solange fan. She's my favorite little sister in the history of celebrity little sisters.  I've always appreciated her spunk and her fighter spirit. Real talk,  I always liked that there was a possibility that she might haul off and slap somebody. Hell, I might haul off and slap somebody, so I appreciated that connection.  However as a feminist, the fact that she actually did haul off and slap somebody, namely Jay Z, is not okay.  I, like most feminist, am against relational violence in all its forms and if we are to take a serious stance against relational violence, we have to be more diligent about finding it in unexpected places and amongst unusual suspects.  Now I get that this doesn't look the way that relational violence normally looks so it may be harder to identify it.  But, the truth of the matter is that sometimes women are violent.  Violence isn't always a man hitting a woman or even a man hitting another man. Relational violence isn't always with someone who you are in an intimate relationship with. It can take many forms.  Brothers and sisters fight, mothers and daughters fight, cousins fight and in this case in-laws were fighting (well Solange was).  The point is, this is a moment of relational violence and we have to see it as such.
We also need to be really careful about our reactions to this video.  When I saw the video my initial response was "yo, what the hell is going on?"  The very next thing I said was, "what did Jay do to make Solange wild out like that?!" and that is where I was wrong.  Wondering what was going on in the situation is a normal response for any nosey ass person like myself.  Wondering what Jay did to elicit such a response is where I was not being a very good feminist.  That is nothing less than victim blaming and I know better than that.  Nothing Jay did justifies her putting her hands on him.  She is responsible for how she reacts to every situation.  There were a myriad of possibilities available to her. She chose to act violently and that is not ok.
The second point I want to make is that Jay Z actually exemplifies what a man defending himself from the attacks of a woman can look like. After Chris Brown assaulted Rihanna, many men came to his defense and justified his attack by saying, "if she comes at me like a man, I'm a beat her down like man." This language works to equate physical attacks on men to attacks on masculinity and therefore, evokes a hypermasculine response to such attacks.  Now, we know that masculinity is fragile as hell but, I do think this actually does a disservice to men by making them seem like flat, uncomplicated beings who have to respond in such demeaning ways.  What Jay Z showed is that it actually doesn't take all that for a man to stop a woman from attacking him.  He too had a myriad of choices available to him.  He chose to block his body, grab her foot and put it down, and push her back from his personal space.  Let me be clear is saying that this was not an example of him turning the other cheek.  What it is an example of is someone who did not feel the need to defend his masculinity in a way that pulled him into participation.
My third and final point is about the Queen Bey.  Now y'all can say what y'all want about her seeming lack of participation in the fight, but what I saw Beyonce doing was exemplifying some of the core tenets of black feminism 101—self-care and self-definition.  First, let me say that Beyonce's response felt very familiar to me.  As a child, my older brother and I would throw down fighting while mother calmly read the newspaper, painted her nails, did her makeup, etc. When we would come rolling by her she would quietly move her feet out of the way and continue to mind her damn business.  Now, we did get reprimanded after we finished the fight, but she gave no fucks during throw down. And you know why? Because, breaking up other people's shit is fucking exhausting! Not breaking up other people's shit is self-care!  Additionally, the conversation about where her loyalties lie is nothing more than our desires to define Beyonce. But let me remind us that black feminism demands that we allow people to be self-definitional. That means that Beyonce gets to not choose sides and that's ok. Beyonce gets to define herself, define her boundaries, and define when and where she enters.  Y'all can say that smile she was rocking when she got off the elevator was her trying to look perfect all the time, but that looks like a self-care/self-defining smile to me!
So, I'm not going to suggest that you stop participating in the hoopla. Hell, I'm about to search some gossip sites as soon as I finish this post.  I'm just asking that we don't throw away our feminism while we do so.  Happy hunting!