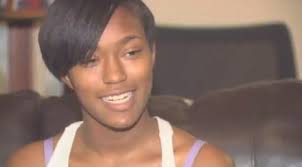 You may have heard about the viral video popularized on World Star Hip Hop and commonly known as the "Sharkeisha video."  The video is a disturbing depiction of a young blackgirl being ambushed and brutally beaten by another blackgirl, identified as Sharkeisha, while a third accomplice videotaped the incident on her phone (it was later uploaded to Instagram and later World Star Hip Hop).  What you may not know, and/or have heard, is the name of the victim in the video, ShaMichael Manuel.
It is disturbing that a violent video clip depicting the ambush of a young blackgirl was being feverishly shared on the internet, garnering millions of views and pushing the perpetrator to instant fame. It is even more disturbing that following the voyeuristic viewing and salacious consumption of a girl fight, that folk continued to attack ShaMichael discursively, leaving malicious comments, tweets and taunts online, while praising the fighting skills of the girl who initiated the fight.   As I have shared before in another post, it is problematic when victims are made invisible and perpetrators are memorialized.
We, at the CFC, have reached out to ShaMichael and Crunktastic will extend in person what we are offering here across the interwebs.  Because the internet was used to further harm and victimize ShaMichael (through the perpetual availability of the video and images from her attack, vicious rumors, and hurtful comments and memes intended to minimize her experience and suffering) we want to use it to send and collect messages of love, affirmation and support for our sister.
At 17 years old, ShaMichael already has much to offer the world in terms of her capacity to forgive and her resilience.  Her mother, Olevia Henderson, is a remarkable role-model and a fierce advocate for her daughter, and young women like her who are silenced or muted.  We honor them both but focus our words to ShaMichael, not only because we want her to feel our love and support, but because she represents a version of our young-girl selves, only braver. (We would also like to point out that we are, in no way, interested in maligning Sharkeisha–so please don't see this as an opportunity or invitation to do so.  We are invested in the wellbeing of all blackgirls, and we wish for Sharkeisha the intervention she needs to be also be well.  We focus, however, on ShaMichael because she has been largely excluded and/or blamed.  ShaMichael, we see you, we got you, we love you!
(In the following clip, Crunktastic speaks up on behalf of ShaMichael and other blackgirls like her/us who are negotiating pain.  Disclaimer:  We, alongside others (see this and this), recognize the dismissal of blackgirl pain, voice and experience expressed by members of this panel and find it problematic and offensive.  However, we want to demonstrate the ways in which black women must, in all spaces and circumstances, stand up for blackgirls and demand space for their visibility). As Crunktastic states, "Blackgirl lives matter!"
Please join the CFC in sharing messages of affirmation for ShaMichael:
Hey Sis,
 I'm writing to you because my heart hurts that you have had to endure such widespread ignorance.  You deserve to feel protected and nurtured by your community and I want to assure you that there are women who will stand up for your right to be safe in this world and stand up to those who choose to participate in secondary abuse. They suffer from arrested development and I pray they take time to reflect on their poor decisions.
I just want you to know that I pledge to continue fighting for a world where you can dance freely under palm trees, see your image in the river and know.  Know that you  belong to a sisterhood of fierce women who have been knocked down and got back up to lift up the next generation of girls.  Know that you are part of long line of fierce women who tell their stories, speak up, and talk back.  Please know there are many people who are pulling for you to heal physically and emotionally and I truly believe that by collecting new great memories this experience will eventually fade into the background of your life.  In the meantime we are sending you an iTunes gift card so that you can download the songs/videos that remind you that you are "Flawless."
Love & Light,
Sheri Davis-Faulkner (sheridf)
Dear ShaMichael,
Hey, girl. How are you doing these days? I know you have going through a lot lately and I want you to know that you've been on my mind and in my heart. Like you, I was bullied a lot as a kid. It made me feel lonely and alone, like no one really saw me, understood me, or valued me. I want you to know that we see you, understand you, value you, and love you, unapologetically and fiercely. You, ShaMichael, are beautiful, brilliant, and destined for great things. You have some big sisters over here in the CFC that have your back and are rooting for you. Never forget that. I'm sending you so much love.
Your sister,
Crunkadelic
ShaMichael,
It's not easy being a blackgirl
and sometimes the company of other blackgirls feels furious
lonely and dangerous
because we are all competing for the same space that is never left empty
never without criticism, scorn, accusation of self-pity
When I heard about what happened to you I was transported back in time
To being bullied and feeling absent
Tears held in long enough to fall right after the bus ride home
Feign friends and misplaced jealousy
I pretended to be brave, but you are brave
I pretended to be whole, but you are whole
And you have a community of folk who love you
And see you for who you are
A brilliant brown piece of sunshine
With forgiveness on your lips
And compassion on your tongue
Thank you for the lessons you taught me in your words of forgiveness
Thank you for gracefully exhibiting the kind of strength that is not inherent but inherited
You are larger than the situation and your character is bigger than any bully
I'm sorry you were ambushed
Caught by surprise
And left defenseless, vulnerable
And all out in the open
I'm sorry it was not your name being called and not your wellbeing being centered in this narrative
I'm sorry we haven't done better for you
You deserve better
We deserve better
& We will do better
Blackgirls are wondrous like that
We have bounce-back like that
We see each other and come to each other's rescue like that
We have each other's backs like that!
Never be discouraged. There is enough love to swallow your pain.
All Love,
Rboylorn