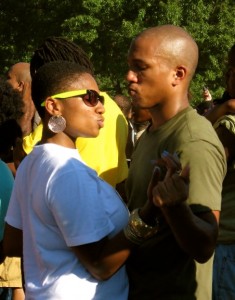 I refuse to cede this summer to cruelty. I have rubbed the roof of my mouth raw with pomegranate hard candies. I have learned how to take rapid-fire selfies at flattering angles. Underwhelmed by artisanal popsicles, politics and my own work ethic, I have brooded. At my best I have ridden the 2 train through the Bronx singing the "The Facts of Life" theme song with a little girl who sidled next to me at Penn Station and rested her head on my shoulder as I reread The Bluest Eye. And then I found my way back home to Harlem.
I have been cheek kissed by the juicy-mouthed toddler of French tourists at church service and tripped over my maxi dress as I helped a mother carry her stroller up a flight of steps. I have raided Trader Joe's for dry roasted honey sliced almonds, fresh pineapple and shredded carrots and have assembled them into cook out stealing summer salads. I have lurked Instagram feeds for hours on end. I have waxed my legs just once to the consternation of friends and strangers. It's a sweet life and somebody has to live it. This I know every time the beat drops.
'lovers rock', the final installation of the crunk feminist summer mixtape series, savors the sweetness of falling into rhythm. I sometimes forget it in people or anchor it in achievement and so I bring the beat back with love songs plumbed from the reggae vaults to remind myself. And you. 

lovers rock: a summertime wind
A CRUNK FEMINIST SUMMER VOL. III
mixes by jalylah
"Sweet Dub" Julie Dexter
"This is Lovers Rock" Sugar Minott
"Baby I Love You So" Jacob Miller
"Stir It Up" The Wailers
"Here I Am (Come And Take Me)" Marcia Griffiths
"For The Love Of You" John Holt
"You Make Me Feel Brand New" Jacob Miller
"I'm Still Waiting" Delroy Wilson
"Lovers Rock (J.A Style)" Freddy MacGregor
"Sufferation" Ras Michael and The Sons Of Negus
"Only Love Can Conquer" Prince Alla
"Now That We Found Love" Third World
"Cover Me" Tinga Stewart feat. Ninja Man
Stream 'soul glow', the first volume of the crunk feminist summer mixtape series, here and 'this is how we do it', the second volume, here.
This mix is dedicated to my sister, the newly minted Dr. Moya Bailey! You are loved and appreciated.
Jalylah hosts the radio program There Ought To Be More Dancing  on WYBC Yale radio.