Guest Post by Regina N. Bradley at
Red Clay Scholar
While listening to Beyonce's latest single "Bow Down/I Been On" an eyebrow raised in amusement along with a low "woooooord?" I couldn't believe that Beyonce, Mrs. "Girls-Run-the-World" was talking to bitches and – gasp! – demanding they bow down.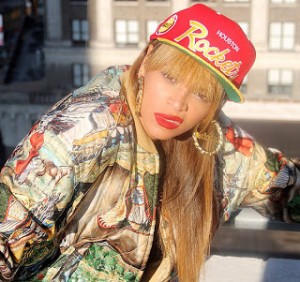 But it wasn't Bey's emphatic singing and ad libs that caught my attention. It was the track itself. The track, in all its "H-town vicious" glory, that briefly pulled Beyonce back south off her global stage.
I contextualize Beyonce as a dichotomy of grit and grace, two polarized representations of black femininity that only co-exist via performances of alter ego(s) – i.e. Beyonce/Sasha Fierce. Aisha Durham's discussion of Beyonce in her article "Check On It" provides a pliable framework for my discussion here. Durham writes: "Beyonce successfully performs a range of Black femininities, speaking at once to the Black working and middle class sensibilities while fulfilling her dynamic roles as both a hip hop belle and a U.S. exotic other globally" (35). The discourses of respectability that Beyonce frequents and consistently navigates are those of visual culture, often limited to what we see of and about Beyonce rather than what we hear.  Durham's categorization of a belle parallels not only the Madonna/whore complex frequently imposed upon women in popular culture but the antebellum aesthetic of respectability that continues to dictate southern women. An oppositional parallel for black women excluded from this niche of finer womanhood is the highly visible and commodified form of expression that we have come to recognize as (the) ratchet. As scholars like Treva Lindsey, Heidi Lewis, and Brittney Cooper point out, ratchetness is an intervention of sliding contemporary politics of respectability currently in place against women (of color). And, for the sake of this essay, I'd like to hone in on the understanding of ratchet as a southern export, one which frequents popular expression like hip hop. It in this regard that I posit Beyonce broaches a type of "sonic" ratchet in "Bow Down," using sound to signify not only her southern "ruts" (roots) but utilize an aesthetic that allows her to vindicate her southern black womanhood while sustaining her (visual) global image.
The track opens with a video game sample (I'm thinking Donkey Kong. Nintendo scholars help me out here!) and an autotuned voice declaring "I'm from the H-town/Coming (coming) down/ dripping candy on the ground." The video game sample signifies not only the 'game' of hip hop/popular music but possibly alludes to a similar use of video game sampling seen in Houston rapper Lil Flip's break through single "Game Over."  Beyonce's declarations of being from Houston and the allusion to "dripping candy" on the ground hint at the prominent car culture ("candy paint") associated with Houston (hip hop) culture. A digression away from Beyonce's usual declaration of the finer things in life like high priced labels and global jet setting, her declaration of returning to H-town and its cultural "essentials" re-situates her within not only Houston's but a southern narrative.
**Side-note: let me take a moment to, er, bow down to one of the trillest hip hop scholars in the game and expert on Houston hip hop Langston Wilkins. His work can be found here.**
Aside from her growling of "bow down bitches!" there is a section of the track where it seemingly "remixes itself" parallel to a melodic – and familiar – rendition of Beyonce's ad libbing. This remix simultaneously changes the track while re-rendering Beyonce's sonic narrative and the song continues in the Texan hip hop aesthetic of chopped and screwed. It is here that we can formally recognize Beyonce as her newest alter-ego BaddieBey, whose distorted voice is masculine and fragmented in such a way that dishevels the listener's understanding of Beyonce as the "good girl." The (hyper)masculinization of Beyonce's voice in this track signifies her attempt to situate herself not only in hip hop's masculine discourse but southern hip hop and its renderings of the south as a similarly masculine space. The sonic intonations of chopped and screwed give Beyonce a pass to dabble in 'ratchet-speak,' sonically alluding to images of "baby hair and dookie braids.' We hear ratchet rather than see it.
It is her roll call of prominent Texas rappers like Willie D and Pimp-C, however, that particularly struck me. In her shout-out to Pimp-C of UGK fame, she says she declares having to "sneak and listen to that UGK." Harkening back to Durham's discussion of Beyonce's treading between black working class and middle class sensibility, Beyonce's delivery of this line speaks to the tensions that exist between her attempting to be down while sustaining the respectability of her middle class upbringing (think New-New from the movie ATL). It also provides a quick glimpse into the reality of Beyonce's performance of ratchet as just that – a performance instead of her reality. Still, Beyonce's acknowledgement of having to "sneak" and listen to Houston rappers is further signified by the narrative persona of BaddieBey than Beyonce herself, sustaining the distance necessary to keep her from teetering over the edge.
I am not suggesting that the track does not have a few sore spots – folks are for real pissed at her liberal use of bitches and tricks. If nothing else, "Bow Down" provides insight into the clever ways Beyonce' uses instrumentation and sound production to fragment her persona limited by investments in her visual image. It blurs clean-cut negotiations of black women's identity and respectability as literal discourse by introducing the concept of sound as an alternative form of black (feminist?) expression and its analysis.