My favorite biographical description of Alexis Pauline Gumbs is included in her Conscious Campus profile:  "Dr. Alexis Pauline Gumbs is a queer black trouble-maker and a black feminist love evangelist. She walks in the legacy of black lady school teachers in post slavery communities who offered sacred educational space to the intergenerational newly free in exchange for the random necessities of life. As the first person to do archival research in the papers of Audre Lorde, June Jordan and Lucille Clifton while achieving her PhD in English, Africana Studies and Women's Studies at Duke University, she honors the lives and creative works of Black feminist geniuses as sacred texts for all people. She believes that in the time we live in, access to the intersectional holistic brilliance of the black feminist tradition is as crucial as learning how to read."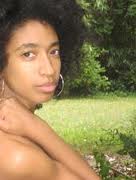 Dr. Gumbs is not just a brilliant teacher though–she is also a visionary, a community organizer, a black feminist powerhouse, an activist, a catalyst, a world-shaper, a publisher, an un-coverer, "a quirky black girl,"  a creative genius, a writer, and a poet.  She describes her latest ebook project 101 Things That Are Not True About the Most Famous Black Women Alive as, "a vaguely epic book of list poems that consider what it is possible to know about the most famous Black women alive including Oprah Winfrey, Condoleezza Rice, Michelle Obama, Beyonce Knowles, Serena Williams, Venus Williams, Halle Berry, Tina Turner, Gabby Douglas, and Aretha Franklin. Part prayer part polemic this project is an intervention into the consumption of Black women."
These powerful poems punctuate the necessity and significance of the interior lives of famous black women, reminding us that like us (everyday folk) they have feelings, families, concerns, and emotional requirements.  In what can be described as love poems, 101 Things captures the humanity and versatility of lives the media sells us as one-dimensional.  Dr. Gumbs' poems allow us to imagine, ever so briefly, what it might be like to be a black woman whose strongblackwoman mantle is put on display for the world to see, interrogate, and try to define.  She offers our larger-than-life women back to us as a reflection of ourselves:  vulnerable, regular, and seeking/needing/deserving sister love and protection.
The poems are thoughtful, soulful, analytical, beautifully written accounts that make you think deeply about what it might mean to be these women and what they share in common due to their race, sex and visibility.  Her focus on what is not true about these women challenges us to consider what might be true.  She shares in this interview that her poetic call is "for pause."  She urges readers to take the time to interrogate what we are told about these women.  Dr. Gumbs also talks about why she loves black women, what inspired this project, whether or not she considers the women in this ebook to be feminist, and how she is learning to love Condoleeza Rice.  The truth drips from her lips and her words echo honesty and care.
For a brief Q & A promotional video about the project check out this interview… and by all means GET THIS BOOK!
You can download the ebook for a small donation to Eternal Summer of the Black  Feminist Mind by clicking the following link.
To learn more about APG and her current work and projects, visit her personal website , or this one, or this one, or this one!
Get Crunk!