On this inauguration morning and MLK day, I woke up with Anna Arnold Hedgeman on my mind. You may not know her but you should.
 Anna Arnold Hedgeman was the only woman to serve on the 1963 March on Washington planning committee. She was the first Black woman to serve in a New York Mayoral Cabinet, under the leadership Mayor Robert Wagner (1954-1958). She is an exemplar of Jacqueline Dowd Hall's concept of "the long civil rights movement," since she was one of the organizers for the first March on Washington Movement alongside A. Philip Randolph in 1941. The result of their efforts led President Roosevelt to establish the Federal Commission on Fair Employment Practices during WWII. Hedgeman went on to head the National Council for a Permanent Fair Employment Practices Commission, which did important advocacy work to stop racial discrimination in federal employment.
Asked to serve with the Big Six (Randolph, Roy Wilkins, Martin Luther King, James Farmer, Whitney Young, and John Lewis) in planning the 1963 March, she found it incredibly disturbing that these men had not thought to include a "Negro woman" speaker at the march. Their initial plan was for Randolph to "ask several Negro women to stand while he reviewed the historic role of Negro women [and then] the women would merely take a bow at the end of his presentation."
She wouldn't stand for it, and instead drafted a memorandum to the group, noting that "in light of the role of the Negro women in the struggle for freedom and especially in light of the extra burden they have carried because of the castration of the Negro man in our culture, it is incredible that no woman should appear as a speaker at the historic March on Washington Meeting at the Lincoln Memorial."
She suggested that they ask either Myrlie Evers (widow of Medgar Evers) or Diane Nash Bevel, a young Civil Rights leader.
Roy Wilkins obliged her request. The wives of various Civil Rights leaders were asked to share the dais, Daisy Bates "was asked to say a few words," and Rosa Parks was presented, Hedgeman notes, "almost casually."
Having participated in the March on Washington Movement from beginning to end, her impressions of that glorious day on the Lincoln Memorial are richly instructive for us today. After listening to Dr. King's famous "I Have a Dream" speech she wrote:
"Martin Luther King, slim, young and with a composure beyond his years, in that moment reminded me of another, young, slim, poised American, John Fitzgerald Kennedy and his inaugural address. Both of these young men had somehow seemed to me to detach themselves from all sense of their own relationship to the past. President Kennedy had done it with his announcement that the young generation would establish the new frontier and Martin Luther King had seemed to bring the same message with his beautifully poetic description of his dream. I had written on the bottom of my inaugural program: "Dear Mr. Kennedy, your dream of a new frontier is bound up in the dreams of all men who have had a vision beyond the moment; a vision of some men in the world from the beginning of time." I wanted desperately to say these same words to Martin Luther King, standing in front of 250,000 people who had come to Washington because they had a dream, and in the face of all the men and women of the past who have dreamed in vain, I wished very much that Martin had said, 'We have a dream.' (Hedgeman, The Trumpet Sounds, 1964, p. 189)
We have a dream.
Not until I read Hedgeman's words as a graduate student, did I understand the simple profundity of her words or the politics of dreaming, particularly in public. It had never occurred to me to use a collective pronoun in thinking of King's dream. It had never occurred to me to that folks other than Black Power figures had had serious critiques of King in that moment.
Hedgeman's moxie and courage are a lesson to us today. As the initial inaugural crowds gather to celebrate President Barack Obama's election to a second term, it is clear that there are far fewer folks than there were four years ago. Today, the shiny glow has worn off. We have chosen to stick with this leader despite our many disappointments, reservations, and anxieties about his leadership.
Four years ago, everyone was quick to compare President Obama to MLK. I have seen far fewer memes in this vein this year, even though he is being inaugurated on the day we celebrate all that Dr. King has meant to us.
So as I take time out today to watch the Inauguration, to celebrate with pride even, the Obamas' return to the White House, I do it the spirit of Anna Arnold Hedgeman.
That means two things.
First, this is a day to dream again, to name very intentionally, the kind of future that we want to see America move toward. It is a day to recognize that Barack Obama stands where we he stands because of us and all those who came before us in the cause of justice. Therefore, despite being the leader of the free world, he in fact does not have a monopoly on the future. We can dream, too. And we should.
Second, we can have great respect for our leader and still critique his limitations in the spirit of love. Hedgeman did. She did it for the "great men" of her day, namely JFK and MLK. She recognized the chimeric qualities of charisma, and chose not to be seduced by it. Even still, she did not let go of her dream.
When I watch President Obama take the oath again today, and even as I sit right now and watch our beautiful First Family process into St. John's Episcopal Church, I am beaming with pride.
I can't help it. I know what he means to us.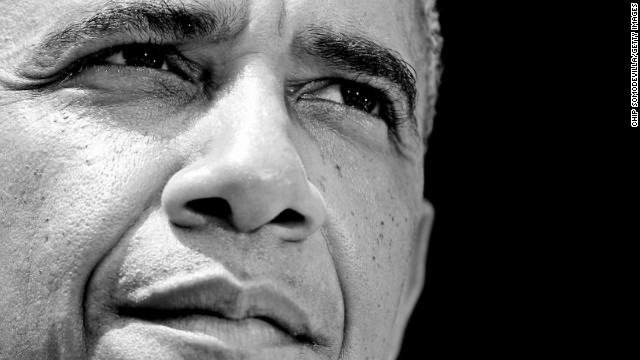 But today,  I dream for a world with less war, less guns, less violence. I dream for a world where parents don't lose children and where children don't lose parents too soon.  I dream for a world where our national and collective contempt for inequality supersedes our national contempt for the unequal. I dream for a world where justice is not a pledge but a practice. I dream for a world that "loves mercy" even as it seeks to "do justice." Even as President Obama lays his hand on MLK's Bible today, I dream for a world where the Bible, esteemed alongside every other holy book, is a personally chosen guide for living not a culturally imposed guide for governance. I dream for a world in which every person has loving and sustaining community and every person has all sufficiency in food, resources, and work.
And I dream for leaders who know that our dreams are not devoid of politics.  These kinds of visions are not fantastical; they are tied to policies, advocacy and action that can be taken in the real world here and now, by them and by you and me.
 These are just a few of my freedom dreams. And I invite you on this MLK-Inauguration Day to share yours.