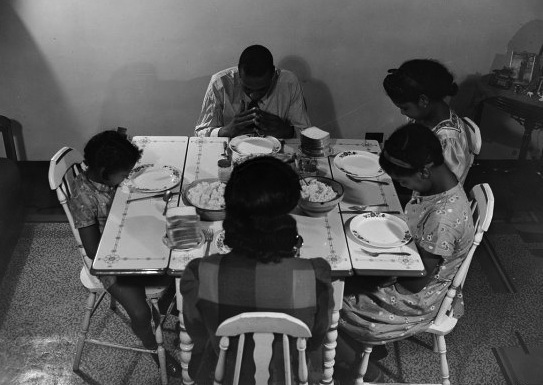 Thursday we feast. We who have it good enough to put a turkey on the table and lament the tryptophan-induced 'itis with loved ones over card tables. And that we won't include me. I won't be home for the holidays but here in Harlem and I haven't done turkey for more than a decade. I've done vegan field roasts, the palate-spoiler that is Tofurky (rebuke it family), the delightful but not vegan Quorn Turk'y Roast, tofu cutlets, Sophie's Kitchen extraordinary vegan calamari, the list of faux meats goes on and on.
But my outsider status is a privilege–I could partake of the slain bird (yes, I'm judging) and cough up the small fortune to fly home to Seattle–and that we is a lie. It doesn't cover my behind much less the choppy waterfront. That presumptive we excludes folks whose holidays evince neither Hollywood's disarming dysfunction nor the heartwarming diabetes of the black cinematic tradition. Not to mention the rent remains too damn high and just getting by too damn prevalent. But there is a we that works. A we that will order our steps nowhere near Wal-Mart this Thursday or any other day of the week (consider sponsoring a striker). A we that raises ruckus about public housing conditions in the immediate wake of Superstorm Sandy and long after. A we that can keep someone from falling. Better yet, a we that with work finds us all on our feet. A we like my family, bound not exclusively by blood but intentional, inclusive and beloved community. Thursday I'll miss the comforting grip of their hands during the marathon that is Thanksgiving grace but if anything they taught me there are always hands that need holding and it is all of our charges to find them. When I think about that we. I give thanks. I also get all up in my digital crates.
we: a thanksgiving mix
mixes by jalylah
"Ain't It A Lonely Feeling" Camille Yarbrough
"Big Brother" Vijay Iyer Trio
"You'll Never Rock Alone" Tata Vega
"Love Is Plentiful" The Staple Singers
"Brothers & Sisters (Get Together)" Kim Weston
"Brother's Gonna Work It Out" Willie Hutch
"Sister Matilda" Stu Gardner
"Painted on Canvas" Gregory Porter
"Word Called Love" Brian and Brenda Russell
"People Make The World Go Round" Marc Dorsey
"You Are The World" Donald Byrd
"Don't You Forget It" Glenn Lewis
"Home" Stephanie Mills
"You've Got A Friend" [LIVE] Donny Hathaway
"Keep On Movin' On" Martha Reeves & The Sweet Things
[STREAM/DOWNLOAD]
This mix is no longer available.
Jalylah hosts the radio program There Ought To Be More Dancing  on WYBC Yale radio.