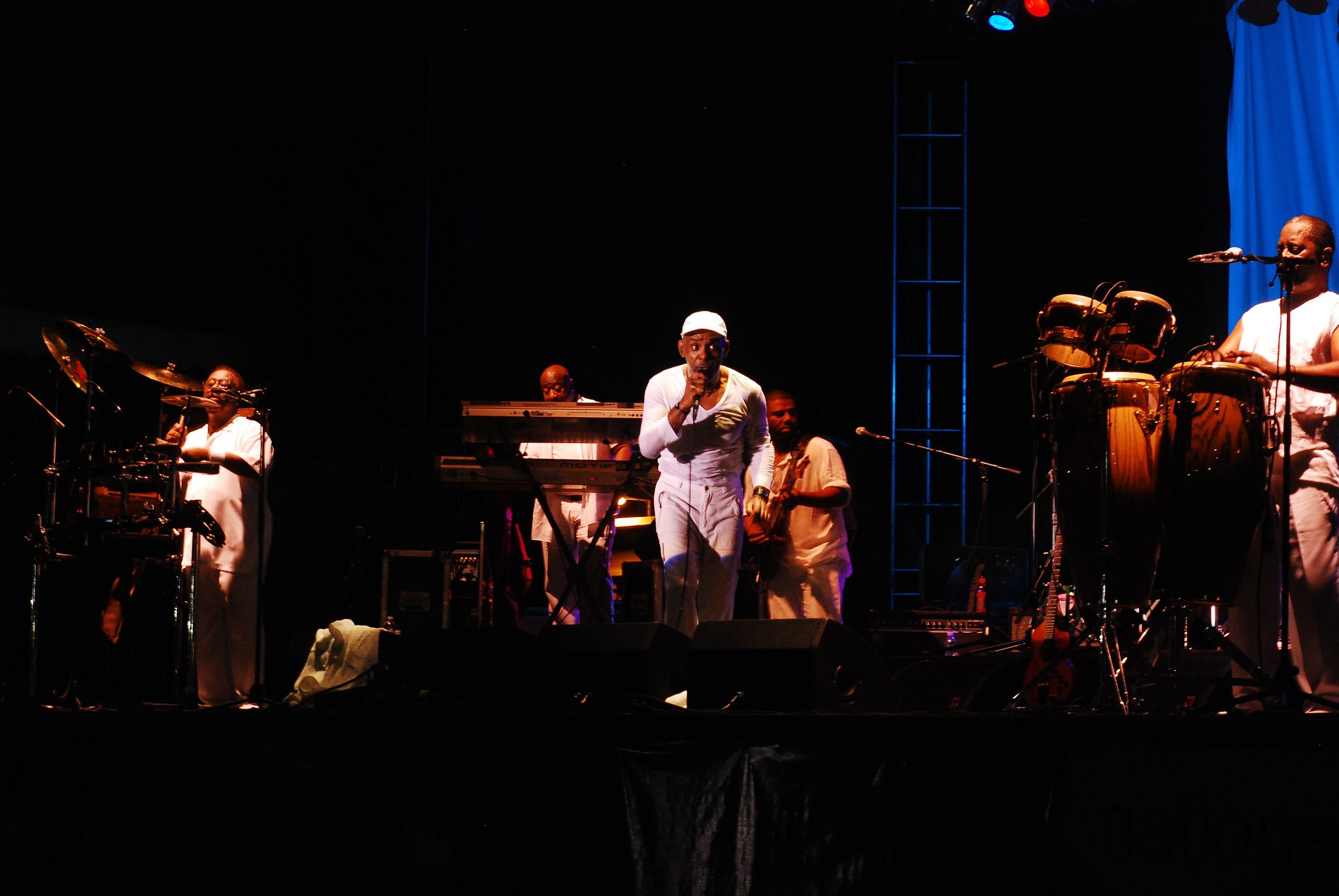 I dusted up my Keds something terrible Monday night. Maze featuring Frankie Beverly opened the 2011 season of Brooklyn's Martin Luther King Jr. concert series and I two stepped until my calves cramped. I arrived early enough to get beat down by the late afternoon sun and ate up by the bugs attracted by my all natural insect repellant. The concerts, in their 29th season, are free and the lines are accordingly stupendous. A young man with cornrows hawked ice-cold water to those of us waiting for the gates to open. A middle-aged woman with a blond crimped weave, maybe fourth in line, shooed away a photographer, pleading, "I got warrants." I struck up a conversation with the three people more eager than her. They told me they had been posted up since morning. I'd like to think I have a bit of their enthusiasm. I passed on a ride from Harlem and took the subway to arrive early enough to secure enough spots in the limited seated section for all of my people.
The concerts are a 'blackful' experience to poach from the poet and professor Elizabeth Alexander. They feature artists that we love like Stephanie Mills and the Whispers, who I saw a few years back, or recently departed Teena Marie who performed just last summer after a downpour and The Mighty Sparrow, the Calypso King, who will perform this August. The shows begin with a prayer– we put God first–the national anthem and our anthem, "Lift Every Voice and Sing," which we do. It's populated with a good deal of what Theodore Huxtable termed "regular people."
Maze took the stage in signature all white– I'd like to say linen, but I wasn't close enough to confirm–to a warm ovation. They were polished, present and attended the moments well. All of them. "We Are One" got me out of my seat early. I looked at the moon and raised my index finger up as I learned is customary for the number. During a brief interlude, Beverly spoke of the band's Philadelphia origins, their original moniker (Raw Soul), their mentor Marvin Gaye and misadventures in brokeness and love. He also confessed to once holding some bitterness at their lack of critical recognition–not even a BET honor–that is now subsumed by this peace, "You can have the awards or the rewards."
I left lifted. "Golden Time of the Day," "Happy Feelings," that sweet sepia anthem "Before I Let Go" amongst others gems from their catalogue had put me in a good space: my mind tuned to good thoughts, my ears tuned to good things. That you would do the same, I'd like to share a little of the happy blackful sounds that have been in my rotation.
"Love Me Instead" Melinda Camille [Download]


Connecticut native Melinda Camille is an American Idol veteran but don't be dismayed. Her 2010 debut, Pure Imagination, is not middling R&B. She's closer to Tiombe Lockhart than Tamyra Gray and her understated delivery recalls neither big-voiced beloveds JHud or 'Tasia Mae. This record wins at hello. It's opening line Camille sings with a side eye but no caricatured sass, "Why you tell me life is like a box of chocolates when really what it is is what you choose to make it?" And then she goes in on bougie black girl scripts. I work out of the same bag. I can understand it.

"Cupid" Lloyd [Download]

This effortfully self-styled thug is bubblegum at heart and his best. "Cupid" makes me want to pop my Trident Splash extra loud, maybe even click my Keds-clad heels. Sweetness has been my weakness since before The Good Girls (Where are THEY now?) and Cupid's is punctuated with a booty shake-breakdown that makes me want to do squats, lunges, get my weight up and prove a low end theorem or two.  But mostly it makes me want to hold hands.

"Here We Go" Beldina [Download]

The dreamy Donald Glover, rape obsession aside, has worked with this black Swede. Thank the diaspora for ever stretching its tentacles, on this occasion from Kenya, because Beldina Malaika heartens the lithe dance music in which the Swedes specialize. My only complaint are the excessive weave tosses in her video. Maybe she was attempting an homage to Whitney's "I Want to Dance With Somebody" video. At any rate, "Here We Go" is a great warm up for all manner of whimsy and tomfoolery.

"I Need It Just As Bad As You" Marcia Hines [Download]

I was digging for an episode of my radio show, There Ought To Be More Dancing when I encountered this Boston-bred woman of Jamaican descent (cousin to both Colin Powell AND Grace Jones). She migrated to Australia in the seventies where she is kind of like a big deal, I mean, Queen of Pop stature. After a spell in musical theatre–Hines starred in the Australian tour of "Hair"–she debuted as a recording artist with 1974's Marcia Shines on which "I Need It Just As Bad As You" appears. It's all the way funk and she's all the way authentic about her sexual desires, her partner's failure to meet them and her subsequent outside dalliances.  She's unapologetic about her wants and, like Betty Davis stateside, opened up expressive possibilities for Black women's sexuality that our brutal history and its continuing legacies too often harness. I find listening to her quite useful as I try an open up my armor of upstanding black womanhood.

Bonus Track: "Golden Time Of The Day" Maze [Download]

Jalylah hosts the radio program There Ought To Be More Dancing  on WYBC Yale radio.