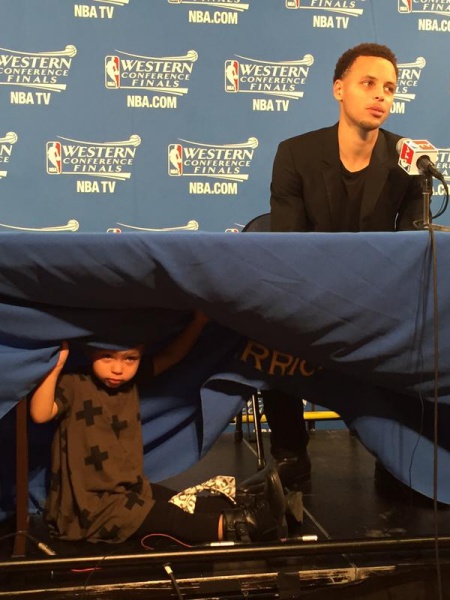 Unlike many of my homegirls, my love with basketball goes far beyond the 2000 film featuring Sanaa Lathan and Omar Epps. While I have never been able to play worth a damn (I'm an artist, not an athlete), my mama and older sister were basketball stars in our small town (my sister famously played on the boy's team when we were in middle school, and gave them all they could handle). Work, life, bills and responsibilities (and the fact that I have not been fully wed to a professional team since the 90's Bulls), I am generally disconnected from the NBA until this time of year when I jump on somebody's bandwagon. This year was no different. I've been tuning in to the playoffs and post-game press conferences to see what's what. Last night was no different. Enter Riley Curry, the two-year old daughter of 2015 NBA MVP Steph Curry.
While it is not uncommon for athletes to attend post-game interviews with their mini-me's in tow, Riley Curry has sparked some interesting controversy following her father's post-game interviews this week. On one hand, I get it. Reporters are frustrated because they are trying to do their job and the intermittent interruptions of a two-year old is a distraction. I have certainly been that chick at the restaurant, in the mall, or on the airplane who has wanted nothing more than for a parent to "control" their energetic and restless child who was kicking my seat, talking too loud, whining or wailing, invading my personal space, or otherwise vying for attention. I have also been around my fair share of two year olds (they don't call it the terrible twos for nothing), and therefore find it unreasonable (and ridiculous) to expect a restless, bored and rightfully self-centered toddler to be still or be quiet. If anything, Riley's presence has made an otherwise run of the mill presser entertaining. I also find it troubling that it is not until a little blackgirl is in the spotlight that it is suddenly a problem to bring children to the podium. The daddy-daughter dynamic seems to be less appealing to sports reporters than father-son.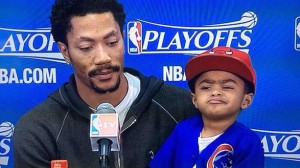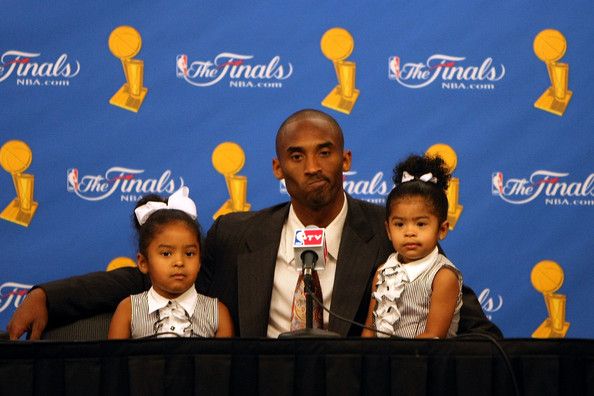 There are several dynamics happening, 1) an attempt to controversialize black male athletes' relationship to media (remember Marshawn Lynch?), 2) an opportunity to recalibrate how black athletes have been characterized as fathers of small children (remember Adrian Peterson?), and 3) a policing of blackgirls via politics of respectability. I don't think people know what to do with a blackgirl who is free and a father who is fostering, rather than stifling, that freedom.
Politics of respectability require a two year old to "act like a young lady." Society wants her to do what society expects all women (and evidently girl-children) to do in public. They want her to sit, look pretty, be quiet, not take up space, not demand attention, not make a scene, not talk (back), and not move. If Riley were a mute prop, her presence on the stage with her father would be welcome. If Riley were a boy-child, her antics would be dismissed as biologically inherent peacocking. If she were white, we wouldn't be having this conversation.
Children are unpredictable which is what makes them wonderful. They are expressive and creative and hopeful and forgiving, and until they are taught to be otherwise, free. But black children are not often allowed to be free. They can't afford to be free. Their parents have to teach them the rules of being a black child, not for respectability, but for survival. So for many black children, their behavior is restricted from an early age. They are conditioned, especially in public, to be seen and not heard. These lessons and warnings, however, are missed on a toddler. She doesn't understand that people are reading and scripting her through stereotypes (misogynoir for blackgirls), and she is not concerned about the ways her ease and comfort make others uncomfortable. She's free and I, for one, celebrate her freedom as rebellion against those who don't want her to be as free as she is, perhaps as free as she'll ever (get to) be.
Come through Ms. Riley, the world is watching!