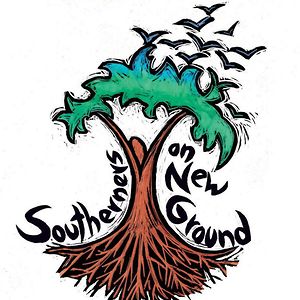 "The Beloved Community. . . is a global vision, in which all people can share in the wealth of the earth. . .poverty, hunger and homelessness will not be tolerated because international standards of human decency will not allow it. Racism and all forms of discrimination, bigotry and prejudice will be replaced by an all-inclusive spirit of sisterhood and brotherhood. . .Love and trust will triumph over fear and hatred." –The King Philosophy
Despite the harsh reminders of how hate and ignorance can pollute the world, brought forth this past week with the anniversary of Trayvon Martin's murder (February 26), and the mean-spirited attacks on a beautiful blackgirl genius, it has been all love over here at the CFC.  And while the work of critical thinking, intervention, outreach, transformation and social justice work will never be done it is good for the soul to shift the focus every now and then and meditate on the transformative power of love.
Truth is we, as single solitary beings, as a community, and as a nation, are desperate for love, so much so that we accept the 28 days (29 on a leap year) we are offered in February to focus on our love of black folk, intimate others, and if we are lucky ourselves.  Folk oftentimes spend money and not time, and idly take advantage of the one day (February 14) they are given public permission to show public affection (but this of course depends on who you are and who you love–for those who are nonheterosexual and noncissexual it is always, February 14 included, a risk to show love in public).  Love-starved and sometimes blinded by the false offerings of love implied by a $5 card, $10 box of candy, and $80 day-old flowers, many people buy into the propaganda of a Hallmark holiday that leaves them feeling full of love when they are in romantic or intimate relationships  and empty of love when they are not.  We forget to challenge the notion that love should only be celebrated on designated days and we forget to remember that not everyone is afforded the same "rights" to love.
However, this year, I have found that an intentional focus on love that concentrates on how we can help build and sustain it, for ourselves and others, is a remarkable endeavor whether you have a boo-thing, a bootycall, or just your damn self.  Love is a powerful drug.
I spent the night after Valentine's Day in community with SONG (Southerners on New Ground) in Alabama for The Right to Stay Screening Party.  As part of the event I was invited to do a reading from my book which talks about rural lived experiences and spoke to the heart of the campaign, which sought personal narratives from diverse individuals about why they have the right to stay in the South.  This campaign was a part of The People's 100 Days, a 100 day-long event following the presidential campaign (November 7, 2012 – February 14, 2013) headed by Project South, a nonprofit organization started by a coalition called Southern Movement Alliance, which is part SONG, part Project South, and part other organizations that have a stake in the South, representing issues from the prison industrial complex to voting rights to queer liberation.
February 14 marked The People's 100th day and to commemorate the event, SONG-Alabama sponsored a Screening party  that included chocolate, good company, a book reading, piercing poetry and soulful singing.  We had church (metaphorically and literally since the event was housed in the recreation area of a Birmingham ministry).
Jazz Franklin, a member of SONG and organizer of the February 15, event, shared that "the role of the people's 100 days was focused on the fact that after the presidential election our lives were not going to change.  After Obama was elected the lives of marginalized folk would be the same."  She described the campaigns, that concluded mid-February, as focused on how we can rely on and transform one another, shifting the focus and the importance from the national political sphere TO THE PEOPLE.
Southerners on New Ground is a South-based organization out of Alabama, Georgia, North Carolina, South Carolina, and Virginia that offers "a home for LGBTQ liberation across all lines of race, class, abilities, age, culture, gender, and sexuality and is dedicated to building, sustaining and connecting a regional base of LBGTQ folks and their allies to respond to the conditions of their communities through leadership development, intersectional analysis and organizing."  SONG was committed to regional action/s in response to The People's 100 Days which culminated in campaigns that centered on the right to love and included Video Valentines, The Love Truck, The Love in the Streets Caravan, and The Right to Stay campaign/s (for more videos see the SONG vimeo page).
The focus of The Right to Stay campaign was that if you love the place you live then you have the right to stay in that place, and love who you love in that place, and build solidarity and power in that place.  The video compilation was powerful and as I listened to the narratives of the contributors and later listened to the responses during the talk-back I was moved.  The love in the room was tangible.  And later as I watched and listened to the other SONG-sponsored initiatives (many of which I include here) I was continually reminded of how beautiful love is, especially when it is allowed to just be.
As an ally I am committed to helping to foster and create the kinds of space/s SONG is creating.  As a woman of color who is still practicing the practice of self-love, I need them.  As a professor and scholar who does work centering around diversity I am invested in them.  And as Jazz shared when telling me about her personal stake and commitment to Southerners on New Ground, "Loving, lasting, beloved communities can be found in unexpected places…even the Deep South!"
As we wrap up our love series this month I urge you to love yourself and others, honor the love of others, and do the work to create a space, and a world, where everyone is open to love who they love fiercely, out in the open, and in public without fear of judgment, violence, or reckoning.  Our love series reminds us that love is a revolutionary and resistant act.  Loving oneself, one's partner, one's neighbor, and one's community is a beloved endeavor.  So love, let love, and be/loved!
If you have not already, please check out the following list of community-centered and community-based organizations that are committed to creating loving, safe, inclusive, and positive spaces for lesbian, gay, bisexual, transgender, pansexual, queer, questioning, + folks and allies.  And if you know of other organizations not listed, please list them in the comments section.  And if you want to show love, share love, or be loved… the floor is open for that as well.
Love in its various incarnations ain't just for February. #payitforward
Organizations You Should Know About & Support:
Southerners on New Ground: http://southernersonnewground.org/
Project South: http://www.projectsouth.org/weallcount/
Bay Area Transformative Justice Coalition
FIERCE: http://www.fiercenyc.org/
Sylvia Rivera Law Project: http://srlp.org/
Audre Lorde Project: http://alp.org/
National Center for Transgender Equality: http://transequality.org/index.html
Creative Interventions:  http://www.creative-interventions.org/tools/toolkit/
Left Turn: http://www.leftturn.org/about-us
National Organization of Black Lesbians on Aging: http://www.zami.org/
All My Children Project: http://www.amcproject.org/index.html
Quirky Black Girls: http://quirkyblackgirls.blogspot.com/
Incite: Women of Color Against Violence: http://incite-national.org/index.php?s=1