Meet the people of the CFC

Join the CFC IRL!

Check out the latest post!
May 5th can't come soon enough. No, I'm not super excited for Cinco de Mayo, because Lord knows I'm all set with appropriated holidays and am up for drinking margaritas any day of the year. What I can't wait for is the return of Love and Hip Hop Atlanta!!!!!! Season 3!!!!!!!!!! That supertrailer was everything! Kirk Frost ole trifling behind swabbing that little baby's cheek, when he knows good and hell well that he was the one stepping out on Rasheeda. Lil' Scrappy is back to his two-timing ways and, quite frankly, I'm just wondering who are these …Read more »
but we don't see her enough. to know she's not stronger than steel that super-human shit is made for TV but made for real life blackgirls break we matter but we don't hear ourselves enough. screams are muted by stereotypes and assumptions that swallow and misunderstand our words when they are not softly-spoken or standardized making us feel foreign in our own damn land we belong here because we belong everywhere we matter but we are not present enough. forced, always, to think ahead and defend ourselves to think back and protect ourselves blackgirls lives are fleeting taken …Read more »
Some spoilers ahead. You've been warned. Watching Scandal is a weekly ritual for me. I love to sit back on my couch, phone in hand (cause I gotta get my tweet on), and revel in the ridiculousness of this frothy primetime soap. Shoot, sometimes I bust out red wine and popcorn too. After my tweets and retweets, I go onto the Facebook and laugh and kiki with the Facebook folks about their thoughts. I even click "like" on the statuses of the Scandal haters who clown the rest of us. It's all good fun. Then I love reading recaps by …Read more »
I was a little late to the game when Beyoncé's self-titled album first dropped.  I am not an Apple user so I had to wait a week before I had access to the visual album "seen" around the world.   Except for Flawless, which has since become somewhat of a personal feminist "girl, get your life, you got this" anthem and the two songs released on YouTube in the interim (Drunk in Love and XO, and the controversies surrounding them), I was limited to the album summation of friends which varied from, "Girllllllllll…." to "I prefer the 'Get Me Bodied' Beyoncé …Read more »
Anyone who knows me knows that I stan for Janet Mock. So, I couldn't wait to get my hot little hands on her book, Redefining Realness: My Path to Womanhood, Identity, Love and So Much More. What took a minute was finding the time to read it—and I'm so glad I finally did! Talk about keeping it real. Redefining Realness is a memoir where Mock lays bare the intimate details about her childhood and journey to being true to herself. She talks about it all—sharing stories of growing up in Hawaii and on the mainland, her parents' battles with drug …Read more »
Every day I walk or drive through historic Black neighborhoods in Atlanta, Georgia where upwards of 50% of residential properties are vacant, abandoned and sometimes burned down (but not demolished).  I see empty buildings that used to be schools, recreation centers, community centers, and businesses.  I see extraordinary flooding each time it rains; rushing water nearly covers the street.  Sidewalks are non-existent or so torn-up you cannot walk on them so folks move through the middle of the street–parents with strollers and people in wheelchairs. On weekdays I see elementary, middle, and high school age youth sitting on porches at …Read more »
It's Saturday Morning. It's International Women's Day. And I have a rant. A rant that I need to share in this community of like-minded folks. A rant so that I don't lose my shit with some educated Black men, who need to be hemmed up by the cufflinks. On Thursday, in my weekly column at Salon, I wrote about the President's new My Brother's Keeper Initiative, and what it means for Black and Brown women and girls, who have yet again been decentered from the national conversation on race and class disparities. Now if you follow my work at Salon, …Read more »
Hey Crunk Family, We are incredibly excited about the next installment in our annual love series. In this video, CF Crunktastic interviews author and professor Kiese Laymon. Kiese has written beautifully about the politics of love among Black men and women, not just romantically, but in rough political times like these. Below, we are providing you links to two of his most recent essays, links to both of his books which are awesome and will give you your entire life. But first watch the interview. It's a great way to kick off your week. You'll be so glad you …Read more »
After a long while she spoke very softly.  "Is it true that I can have a baby now?" "Sure," said Frieda drowsily.  "Sure you can." "But . . . how?" Her voice was hollow with wonder. "Oh," said Frieda, "somebody has to love you." "Oh." There was a long pause in which Pecola and I thought this over.  It would involve, I supposed, "my man," who before leaving me, would love me.  But there weren't any babies in the songs my mother sang.  Maybe that's why the women were sad: the men left before they could make a baby. …Read more »
Each year the CFC spends the month of February doing some love talk and this year I want to set it off by sharing a few of my thoughts on love praxis. A little background: I have been in a committed relationship for nearly 14 years, married for 9 years.  I am still close to besties from preschool and 5th grade.  I have a beautiful child, come from a big family, and I am part of large community of loving folks. I think about love in three ways: in-love, love, and loving (not mutually exclusive).  I believe that being in-love …Read more »
Thank you to our Generous Supporters!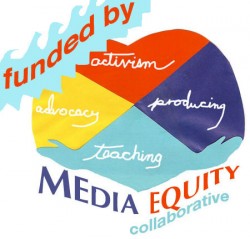 Join Us on Facebook
Blog Topics