Meet the people of the CFC

Join the CFC IRL!

Check out the latest post!
It's a 'do you remember where you were when…?" kind of event. Years from now, I'll say, "I was at a friends birthday party where some of us gathered around the TV, shushing the others, to watch Lemonade premiere." It was a warm, April evening in Houston and I got to the party with about 4 minutes to spare. We had a hard time hearing, but we leaned in to hear. We gulped the visuals down with wide eyes, like we'd never seen any music video before. There was hollering, cheering, praising, waving, conferring, and more than a few times, …Read more »
Homemade lemonade was relief from the humid heat of North Carolina summers.  Sweet and sour lemon water always tasted better after it had been sitting for a few days, bathed in the sun so the sugar syrup could fully absorb the lemon pieces floating at the top of a see through pitcher, like a see through picture.  Similarly, I've been sitting with Beyoncé's visual album since Saturday night, absorbing the pieces of myself and my life sticky sweet on the edges of the glass, transparent and raw.  You can see right through me. i've always been misrecognized by every man …Read more »
In her famous essay, "Interstices: A Small Drama of Words," the venerable literary critic Hortense Spillers wrote, "Black women are the beached whales of the sexual universe, unvoiced, misseen, not doing, awaiting their verb." At the time, Spillers was talking about the lack of texts about Black women's sexuality and the lack of a collectively-honed voice and articulation about Black women's sexuality from Black women themselves. She was writing in a moment that is very different from this one. In Spillers moment, controlling images of Black women as jezebels and mammies ruled the day. These days, the careful labor of …Read more »
The Panthers lost the Super Bowl.  Peyton Manning won his second ring on the backs of a Denver Defense that ain't nothing nice.  Cam Newton didn't shine, didn't get to dab, didn't ever seem to fall into the rhythm fans have become accustomed to this season.  He wasn't playing with the joy and jubilant energy we were used to seeing.  He didn't bless us with that all-star smile from the sidelines.  Instead he was all business from the start, serious, undoubtedly putting the responsibility of saving the season for his team on his shoulders.  But like only one other time …Read more »
"I do not expect the white media to create positive black male images." –Huey Newton It is the Friday before the Super Bowl and for the last two weeks there has been much ado about the anticipated performance of frontrunner for the league MVP, and star quarterback of the Carolina Panthers, Cam Newton.  And by performance I don't only mean whether or not he will rely on his arm or his feet to put points on the board, or whether or not it will be a stat staggering game like many others this season, or whether or not he …Read more »
Nobody called me a nigga to my face But behind backs and closed doors I am sure I have been called every kind of n-word Especially when I excelled in systems designed for me to fail nigga Or called out bigotry and privilege in classrooms nigga Or won awards white folk swore were theirs and I musta stole over some affirmative action shit nigga Or Spoken (back) at me because I have the audacity To listen to and memorize hip hop histories where nigga Was somewhat of an anthem Like, Jig-ga My Nig-ga Or 2pac's 4 My Niggas Or DMX …Read more »
"What do you think I want, respect or compliance?" This was the question I posed my class this week, after I asked them to define the terms. For compliance they yelled out things like "following orders" and "obedience." They defined "respect" as "valuing the thoughts of others" "being loyal," and so on. I asked them to define respect versus compliance for a few reasons. Last Friday, my class of mostly white college sophomores, juniors, and seniors was feeling particularly antsy. For many, my 11 o'clock class is their last one before their weekend begins and by the time I …Read more »
We can almost hear his wail. Abdullah Kurdi is photographed after he leaves a morgue in Mugla, Turkey on September 3rd.  "My kids were the most beautiful children in the world… They are all gone now," said Mr. Kurdi. His devastation is so palpable that we begin to feel our throats tighten. Alyan, his five year old brother Gailp, and their mother, Rehan all died after their small rubber boat capsized on its voyage between Turkey and Greece.A photo of Alyan's body washed up on the shore has garnered much attention. The Kurdi family was fleeing violence in their home …Read more »
In a recently published book chapter called, "Brains, Booty, and All Bizness":  Identity Politics, Ratchet Respectability, and The Real Housewives of Atlanta, I define ratchet respectability as "a hybrid characterization of hegemonic, racist, sexist, and classist notions of black womanhood," which allows black women to combine ratchet behaviors (generally linked to race) to the politics of respectability (generally linked to class).  I suggest that black women (particularly those represented on reality TV) are uniquely positioned to enact ratchet respectability through their negotiation of supposed authentic race and class behaviors. Because class based performances (from bourgeois to basic) do not …Read more »
Straight Outta Compton is clearly doing the damn thing at the box office.  Since its debut about a month ago, the film has become the highest grossing music biopic in history.  And no shade, but shade…given the music biopics of late…that Whitney biopic that should have been called the Whitney and Bobby Show, that Aaliyah biopic that was a hot damn mess, and that TLC biopic that was ehhhhhhh, folk have clearly been checking for some 90's nostalgia.  And while some may believe it is unfair to compare made for TV movies with a heavily anticipated film with a $28 …Read more »
Thank you to our Generous Supporters!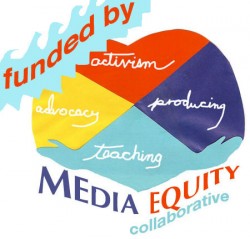 Join Us on Facebook
Email Subscription
Blog Topics