Meet the people of the CFC

Join the CFC IRL!

Check out the latest post!
The past three days have felt like the end times.  The sting and stench of death hanging heavily in the humidity of the third summer in a row that will be remembered for murder.  Like others, I have been restless, sleepless, and hopeless—speechless.  First, because of the unnecessary death of Alton Sterling by Baton Rouge police officers Blane Salamoni and Howie Lake, caught on tape from multiple angles, reminiscent of Eric Garner's body being wrestled to the ground, held down until breathless.  The gun shots startled me, coming from nowhere and for no reason, even after I watched the video …Read more »
I don't write much. In fact, I only write when I feel things deeply. These past two days, I have been in my feelings. The pain cuts so deep that I think my tears are now crying. I cried in shock when I saw the news about the Sandy Hook Elementary School shooting. I sat in disbelief and cried again when I saw the news about the AME Church shooting. Now, I just can't stop crying after hearing about the recent shooting in Orlando. As a gay Latina, this news cuts even deeper than all of the previous tragedies. None …Read more »
At the end of Jewelle Gomez's seminal feminist novel, The Gilda Stories, Gilda and her crew of badass queer vampires (because, of course) are faced with a dying planet Earth. Centuries of white supremacy and unbridled capitalism have wreaked havoc on human society. The wealthy have escaped off planet to colonize other worlds (because, of course) and Gilda's squad, along those who are too poor to escape, are left behind to pick up the wreckage. Sound familiar? Maybe it's just me, but the times we are living in make me want to scramble and, as my granny would say, "get …Read more »
It's a 'do you remember where you were when…?" kind of event. Years from now, I'll say, "I was at a friends birthday party where some of us gathered around the TV, shushing the others, to watch Lemonade premiere." It was a warm, April evening in Houston and I got to the party with about 4 minutes to spare. We had a hard time hearing, but we leaned in to hear. We gulped the visuals down with wide eyes, like we'd never seen any music video before. There was hollering, cheering, praising, waving, conferring, and more than a few times, …Read more »
Homemade lemonade was relief from the humid heat of North Carolina summers.  Sweet and sour lemon water always tasted better after it had been sitting for a few days, bathed in the sun so the sugar syrup could fully absorb the lemon pieces floating at the top of a see through pitcher, like a see through picture.  Similarly, I've been sitting with Beyoncé's visual album since Saturday night, absorbing the pieces of myself and my life sticky sweet on the edges of the glass, transparent and raw.  You can see right through me. i've always been misrecognized by every man …Read more »
In her famous essay, "Interstices: A Small Drama of Words," the venerable literary critic Hortense Spillers wrote, "Black women are the beached whales of the sexual universe, unvoiced, misseen, not doing, awaiting their verb." At the time, Spillers was talking about the lack of texts about Black women's sexuality and the lack of a collectively-honed voice and articulation about Black women's sexuality from Black women themselves. She was writing in a moment that is very different from this one. In Spillers moment, controlling images of Black women as jezebels and mammies ruled the day. These days, the careful labor of …Read more »
The Panthers lost the Super Bowl.  Peyton Manning won his second ring on the backs of a Denver Defense that ain't nothing nice.  Cam Newton didn't shine, didn't get to dab, didn't ever seem to fall into the rhythm fans have become accustomed to this season.  He wasn't playing with the joy and jubilant energy we were used to seeing.  He didn't bless us with that all-star smile from the sidelines.  Instead he was all business from the start, serious, undoubtedly putting the responsibility of saving the season for his team on his shoulders.  But like only one other time …Read more »
"I do not expect the white media to create positive black male images." –Huey Newton It is the Friday before the Super Bowl and for the last two weeks there has been much ado about the anticipated performance of frontrunner for the league MVP, and star quarterback of the Carolina Panthers, Cam Newton.  And by performance I don't only mean whether or not he will rely on his arm or his feet to put points on the board, or whether or not it will be a stat staggering game like many others this season, or whether or not he …Read more »
Nobody called me a nigga to my face But behind backs and closed doors I am sure I have been called every kind of n-word Especially when I excelled in systems designed for me to fail nigga Or called out bigotry and privilege in classrooms nigga Or won awards white folk swore were theirs and I musta stole over some affirmative action shit nigga Or Spoken (back) at me because I have the audacity To listen to and memorize hip hop histories where nigga Was somewhat of an anthem Like, Jig-ga My Nig-ga Or 2pac's 4 My Niggas Or DMX …Read more »
"What do you think I want, respect or compliance?" This was the question I posed my class this week, after I asked them to define the terms. For compliance they yelled out things like "following orders" and "obedience." They defined "respect" as "valuing the thoughts of others" "being loyal," and so on. I asked them to define respect versus compliance for a few reasons. Last Friday, my class of mostly white college sophomores, juniors, and seniors was feeling particularly antsy. For many, my 11 o'clock class is their last one before their weekend begins and by the time I …Read more »
Thank you to our Generous Supporters!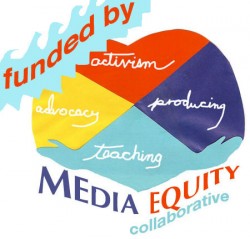 Join Us on Facebook
Email Subscription
Blog Topics