This evening, at the National Black Theatre in Harlem, a group of fools who have convened themselves as the Straight Black Pride Movement will be hosting a press conference to shame and antagonize Black queer people under the guise of defending the Black community.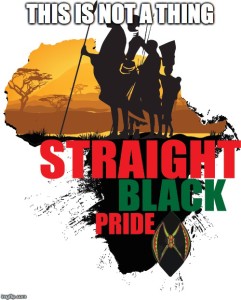 Several weeks ago they enlisted the NBT to host a Straight Black Pride Rally, but the the NBT declined to host the event after a call from the community not to do so. They are to be saluted for taking that stance. Since that time the Hotep Homophobes who have convened this foolishness have harassed the staff of the NBT and physically threatened people.
In their latest act of harassment, this evening they are planning a press conference at the theatre "in response" in their words "to a direct attack by the LGBTQ community on the heterosexual Black community's right to gather for peaceful assembly." They go on to say that "we will not allow the National Black Theatre to back down because of pressure from the LGBTQ community and throw the heterosexual Black community under the bus. …The Black heterosexual community is here to stay and we will not back down to the LGBTQ Pink Mafia."
They invite "Straight, Black, and Proud" people to spread the word.
I got a word for y'all. Fuck.Outta.Here. I'm Black and straight. And what I am most proud of is the visionary thinking from largely queer Black people that have theorized, galvanized and mobilized our current #BlackLivesMatter movement.
The ridiculous idea that the presence and visibility and meager social gains that LGBTQ people have experienced because the gubment now says they can get married legally everywhere constitutes an attack on "the heterosexual Black community" is pure absurdist sophistry.
And what the fuck is "the heterosexual Black community" anyway? Y'all niggas are not my community.
The fear and anxiety that these Hotep Negroes are trying to whip up is homophobia personified.
So let me be clear. The male-centered, (patriarchal), straight-centered (heterosexist) version of Black community that these folks are trying to promote is neither Revolutionary nor liberatory. As a straight person, my prospects for love and family are not under attack. Not because I'm straight anyway. If folks really wanted to have a revolutionary conversation about Black love, family, and community, we would start by talking about all the structural impediments that exist to make Black people hate each other, that make us unable to provide for each other, and that make us turn inward and resent each other because of structurally induced feelings of inadequacy.
Heterosexism is a structural impediment. Patriarchy is a structural impediment. Cissexism is a structural impediment.
And since these impediments prevent us all from loving and being loved, these are the kinds of structural issues that straight Black folks should be seeking to be in coalition with gay Black people around. Instead, in some misguided show of straight privilege fuckery, these Hoteps whose social analysis is about as deep as a kiddie pool, have decided that gay and trans* Black people are the enemy. And in the kind of social narcissism only available to the privileged, they suggest that they are under attack.
They sound like those evangelical Christians who be out here proclaiming that inability to tell everyone "Merry Christmas" and "Happy Easter" is an attack. Negroes need to get up on some dictionaries.
They sound like those white folk that love that damn Confederate Flag who think that taking it down is an "attack on our way of life."
So as a straight person, let me make things clear. If we don't check, confront, and dismantle, our desire for "tradition," for nuclearity, for Huxtabledom, then we are the enemy.
It is our narrow conceptions of family, love, and relationship that have done and continue to do countless forms of harm to gay youth. More than 40% of homeless youth are LGBTQ youth, and nearly 68% of those youth cite family push out as the reason they are on the streets. Straight people put their queer children out on the street! Think about that shit. In a world where Black children are likely to be shot by cops just for breathing, homophobia and unaddressed heterosexism has some misguided parents putting their children out on the street!
When is the last time you heard a story about a gay Black man physically attacking and murdering a group of straight Black women because they are straight and therefore not into him? See how utterly unreasonable and ridiculous that story sounds?
But check it. In 2003, Sakia Gunn, a masculine-of-center lesbian, got stabbed while she was hanging with her friends because the dude that hollered at her was mad that she was gay. What about the New Jersey 4, four young Black lesbians who were attacked, and then arrested and forced to serve jail time, because they defended themselves against a man named Dewayne Buckle who assaulted them and yelled, "I'll fuck you straight!"? What about CeCe McDonald, a trans* sister who spent 19 months in prison after defending herself against a transphobic attack in which she was forced to stab her attacker? What about Islan Nettles, and Eyricka Morgan, and Penny Proud, and the 6 other trans* women of color who were murdered in the first two months of calendar year 2015?
Somebody's out here steady mobbin' but it ain't "the gays." And no straight person should be proud of that.
Patriarchy, heterosexism, and cissexism (a structural desire for everyone to be cisgender as opposed to transgender) won't help any of us get free.
As a straight, cisgender Black woman what I know for sure is that a patriarchal, Black nationalist vision of Black liberation is a threat to my well-being and livelihood. I don't want a man to head my household. I head my household. I don't want to be told to have children for the revolution. I decide what I do with my uterus and my vagina, and more often than not I'm interested in using these facets of myself for pleasure rather than procreation. Real talk.
Men who have a need to dominate women are a threat to Black women and children and to Black communities in general. These men are frequently not above violence, and even if they are not physically violent, the ideologies to which they subscribe (religious or otherwise) which tell them that they are superior, more thoughtful, and naturally created to lead are not only dishonest and factually untrue, but also emotionally violent and culturally unsafe.
My notion of Black community is expansively, unapologetically and profoundly queer.
Fifty years ago, Daniel Patrick Moynihan told us that our failure to have male-headed nuclear households was a mark of racial pathology. Half a century later and we still battle the shame of that pronouncement. But we ought to recognize that Black people's creative and resilient notions of kinship have been the only thing that has saved us. (Read Crunkadelic's excellent book Close Kin and Distant Relatives  for a more scholarly take on this point.) Our ability to see love and pursue it and embrace it fiercely even when it doesn't conform to what structures say is acceptable has been some of our most revolutionary praxis. The choice to love in a system that says we are unworthy of it is a choice to recognize the humanity in ourselves and in the other person, in a system that says we are less than human. This is a profoundly queer act. It ain't normal for Black folks to love themselves or each other in a world that hates us.
It makes total sense to me that two queer women (Patrisse Cullors and Alicia Garza together with Opal Tometi) would be the ones to proudly proclaim that Black Lives Matter. America has made it perfectly clear that we don't matter – that our lives have no value. It ain't nothing normal about looking into the face of these facts and snatching another truth from them. Nothing. But Black lives do matter. We know this.  That kind of moxie– to know some shit that you are told is not knowable– issues from the inherent queerness of Black life, the inherent audacity of those of us with Black lives to show up and live, despite a world that wants to kill us.
Straight Black liberation ain't liberation. And until we –straight folk—get clear on that, queer folk shouldn't trust us. But the thing is – they love us in spite of how much we hate them, and they keep working to help us all get free.
So it would be exceedingly foolish for straight Black people to bite the hand that feeds us. It would be exceedingly foolish for straight Black people not to recognize the inherent queerness that makes our very Black lives and love possible. It would be exceedingly foolish for straight Black people to make any other Black people the enemy.
ALL our Black ass lives matter. Ashy Noteps included.
One more time: All of our Black lives matter.