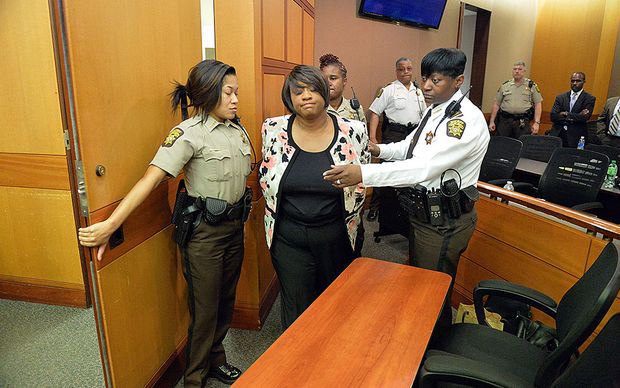 When I was in the 7th grade, I moved from Connecticut to South Florida. I was a nerdy kid that loved reading, science, and social studies and had been tracked into the gifted and talented track during my years of schooling. But when I got to Fort Lauderdale I entered a middle school where we sat in class and watched the Jerry Springer Show, where we were being babysat rather than taught. I felt pretty bummed out about that and spent a lot of time in the library teaching myself. My mom worked 12 hours a day, 6 days a week, just to keep a roof above our heads, so although she cared she just wasn't that parent at the PTA meetings. By the time I was in 8th grade, I began skipping school and staying home to read, especially on Fridays. (I've been a fan of a 3-day weekend since the early 90s).  I felt sort of hopeless about everything, living in a community where violence was rampant, facing street harassment whenever I left the house, and school had the nerve not to be a place of refuge.
Enter Ms. Bryant.
Even to my 12-year-old mind, she seemed young, probably in her late 20s. I remember she wore her box braids in short bob, which means she was killing the game in 1993. She taught math and was very no nonsense. I was in her class for a few weeks, maybe a month, when she pulled me aside and told me that she was taking me out of her class and putting me in pre-Algebra—advanced math.
Say what?
I've been a good student most of my life, but math has always been a struggle. I'm not even sure I did particularly well in Ms. Bryant's class. I do know that I worked hard and didn't cause any trouble. I thank God every day for whatever it is that Ms. Bryant saw in me. I flourished in pre-Algebra with the tough but kind Mrs. Klevansky. In fact, that year was the first (and last) time I got As in math in my life.
Curiously, this advanced math class had some interesting demographics. I went to a middle school that was at least 98% Black, yet the advanced courses were at least 98% white.
Hmm.
Only students in the advanced classes could attend workshops where you could learn about the magnet high schools anyone could apply for. If I hadn't been in pre-Algebra, I would not have learned about the International Baccalaureate program that I would later attend and kick ass in.
Curiouser and curiouser.
So, in a school that was ostensibly all Black, pretty much only the white kids learned how to apply to the elite high schools in our county.  That doesn't seem racist at all. No structural inequity here—nothing to see, folks.
Ms. Bryant, a person I haven't seen in over twenty years, is an absolutely integral part of my success. She stepped in and changed the course of my life. I was able to attend the college prep high school of my dreams, get into and do well in college and graduate school, and then go on to become a professor. Ms. Bryant was one of several people who pulled me aside over the course of my academic life and said, "Take this path off to the side. You'll do better here."
When I talk to other women of color who grew up poor and working class like myself, almost all of us have similar stories. There was a teacher in the 2nd grade, or the 5th, or the 9th. Sometimes she is a Black woman. Sometimes he is a white man. Or someone else entirely. But this earth angel sees our humanity and nascent brilliance and not a little Black or Brown girl who needs to be quieted down, disciplined, erased.
But what about those who don't have a Ms. Bryant or a Mrs. Klevansky? What about them?
This is on my heart in the wake of the Atlanta Public School (APS) scandal, wherein several teachers were convicted in a standardized test cheating debacle. These teachers, mostly Black women, have been convicted of racketeering and face up to 20 years in prison.
Yes. You read that right.
George Zimmerman and Darren Wilson can tootsie roll all across this nation, while these teachers are now convicted felons. Where is the justice in that?
Let me be clear. I'm not condoning cheating. I'm an educator and I think integrity is key in the classroom and when grading. But locking up these teachers is like convicting the drug dealer on the corner and letting the kingpin run free. These folks are being made examples of, but trust and believe that the inequities at the heart of the APS remain and will remain until we pay attention to the structural issues that would push teachers and administrators to cheat in the first place.
What, you may ask, does have to do with my clearly noble Ms. Bryant?
As much as I love and appreciate Ms. Bryant, I recognize that she was in an impossible position. I was not the only smart kid in her class. But there were limited spaces in advanced math. Without the proper resources to lift us all up and get us performing to where we needed to be, only one or two could be chosen. We treat smart Black kids and dedicated Black teachers like magical Negro unicorns that can individually save the world when the truth is that we need massive dedicated resources and structures to support us. We put students and teachers in impossible positions, berate them daily, and then wonder why our school systems are struggling. If we really believe that black lives matter, they need to matter in the classroom and in the schoolhouse too.