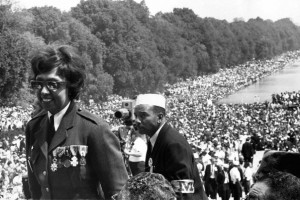 Josephine Baker famously fled the U.S. for the reprieve from racism post World War I France provided. She called France her home for the rest of her life but continued to perform stateside. She also protested. She addressed the masses at the 1963 March on Washington for Jobs and Freedom and juxtaposed the measure of dignity she enjoyed abroad with the degradation she was subject to as a black woman in the United States. Segregation enraged her. "And when I get mad," she explained, "you know that I open my big mouth. And then look out, 'cause when Josephine opens her mouth, they hear it all over the world." (Source: Josephine Baker in Art & Life: The Icon and the Image by Bennetta Jules-Rosette)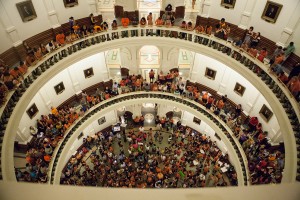 Last week Texas state Senator Wendy Davis, her democratic colleagues and thousands of activists made their voices heard all over the world by successfully, albeit temporarily, filibustering a bill that threatened reproductive freedom. Justice-minded thousands staged a stand-in at the Texas state capital rotunda to support Davis' effort. Ignited by Senator Leticia Van de Putte's incisive inquiry, they roared the final minutes of the legislative session, stymying last minute Republican efforts to pass the bill.
This is how we do it. And this is what we must continue to do. This second volume of the crunk feminist summer mixtape series heeds and amplifies this clarion call in its assembly of YOUR favorite summer selections. This mix is crowdsourced from your comments, FB postings and emails. It demanded your investment and so does this moment.
"We who believe in freedom cannot rest." Bernice Johnson Reagon
We mourn the gutting of the Voting Rights Act, celebrate the defeat of DOMA and keep on pushing.
I hope to see some of you in Washington, D.C. this August for the 50th anniversary of the March On Washington for Jobs and Freedom.
this is how we do it: an independence day mix
A CRUNK FEMINIST SUMMER VOL. II
mixes by jalylah
"Parliamentary Inquiry" Leticia Van de Putte
"Now Is The Time" The Sisters Love
"Gotta Get Your Groove On" Martin Lawrence
"This Is How We Do It" Montell Jordan
"Summer Sun" Koop
"You Got the Love" DJ Center feat. Gretchen Parlato
"Love Endeavor" Alice Smith
"Summer Madness" Kool & The Gang
"Hot Like Fire" Aaliyah
"My Boo" Ghost Town DJs
"Do You Love What You Feel" Chaka Khan
"Oh Sheit it's X" Thundercat
"It's So" Omar
"Closer (DJ Spinna remix)" Goapele
"I Believe In Miracles" Jackson Sisters
"Get Lucky" Daft Punk feat. Pharrell Williams
"Rock Creek Park" The Blackbyrds
"Harlem" Bill Withers
"My Kind Of People" Cee Lo Featuring Jazze Pha & Menta Malone
Spotify users can hear all the songs submitted on this playlist. Stream the first installation of the crunk feminist summer mixtape here.
Check back on July 31st for the final summer mix.
Jalylah hosts the radio program There Ought To Be More Dancing  on WYBC Yale radio.