Meet the people of the CFC

Join the CFC IRL!

Check out the latest post!
So, the question has been asked, is 2014 the year of the side chick?  When thinking about this there are a few things to consider.  Is this a declaration, a compliment, or a fear?  According to popular media, side chicks, or women (usually women of color) who are knowingly in a relationship with a man who is already in a relationship are on the rise.  However, side chicks existed long before reality TV, BET and tabloids.  When I was growing up it was not uncommon for a man to have a woman at home (usually the mother of his children) and …Read more »
The turning of autumn is one of my favorite times of year. Having been on an academic calendar my entire life, fall is the season of new beginnings, a time to turn up the intensity of scholarly production, teaching, meetings, school. But that intensity is also greeted with the changing of fall leaves and hopefully a cool respite to a swiftly passing hot summer. While this summer was unusually cool in terms of the weather, it was inordinately hot in terms of the toll that the machinations of summer have taken on the lives of people of color. We start …Read more »
Trigger Warning: Discussions of sexual violence below. Dear Cee Lo, Dude, seriously? I am so disappointed in your actions that I almost don't even know where to begin. You have just gotten off from some charges stemming from a 2012 accusation of sexual assault. And rather than quietly going off into the night as one might expect, you have proceeded to open your mouth and stuff your entire foot into in it in your rush to defend yourself. But your "righteous indignation" sounds more like the unreasonable rants of a guilty person. First, let's set the record straight, because your …Read more »
"I have come to believe over and over again that what is most important to me must be spoken, made verbal and shared, even at the risk of having it bruised or misunderstood. That the speaking profits me, beyond any other effect. My silences had not protected me. Your silence will not protect you." (excerpt from The Transformation of Silence into Language and Action, by Audre Lorde) As I prepare the syllabi and lesson plans for my fall classes I am dealing with uncertainty about how to teach about Ferguson and the merciless assault on black bodies and minds …Read more »
When we are young, often too young to fully understand the anxiety in their voices and the fear in their eyes, many of us listen to our parents tell us how to behave when, not if, we are stopped by the police. Usually these cautions beseech us to be aware of our surroundings, comply and assert our compliance out loud, to polite and cooperative, not combative or defiant.  They tell us the things they think will protect us. They tell us not to be alone. They tell us to be vigilant. They know what we will face. They are black, …Read more »
Everyday I read, watch, or discover something that makes me want to throw in the towel on humanity and crawl back into bed. I don't really—none of us really—have that luxury though. There are Nigerian schoolgirls still missing. Ebola outbreaks marked by fear and/or indifference. Kids dying in hotass cars. There is apartheid and genocide in Gaza. Renisha McBride, Eric Garner, Marissa Alexander and other chokeholds, death grips, suicide trips. White folks columbusing Dead trans women every week. Sometimes talking about self care in the midst of so many forms devastating forms of institutional violence seems like …Read more »
(Trigger Warning) I will never forget listening to the raging voice of a man I didn't know on the other end of a phone line alongside my homegirl in Florida.  We sat in a room with the door closed while she told me what had happened the night before to preface the voice mail I was about to hear.  The man behind the voice was someone her sister had recently started dating.  He left the message on her voicemail several hours after beating and berating her in front of her child and leaving her bloody and unconscious on the concrete …Read more »
Hopefully, you have been following the trial of Theodore Wafer, a Michigan man, who killed 19 year old Renisha McBride last fall when she came to his door in the early morning hours after a car accident begging for help. He shot and killed her through a locked door, because he claims he felt afraid. Local residents in Detroit, marched and rallied on Renisha's behalf and ensured her killer was brought to trial. But there has been no national outrage of the sort we saw last year with Trayvon Martin and Jordan Davis. Wafer's attorney has attempted to prove …Read more »
*Trigger Warning: This article contains material addressing rape, gender based violence, and mutilation.* Hello Everyone, I'm Judith and I'm currently an intern here at CFC.  I'm a student at Agnes Scott College double majoring in Women's Studies and Political Science. Outside of my academic interest, I make zines and ponder feminist theory.  From the moment I watched Tomb Raider; I have been a fan of Angelina Jolie. When I first heard word of the film Maleficent, a remake of Sleeping Beauty, the idea of Angelina, draped in black, casting spells on people sparked my interest. Before I went to the …Read more »
It has been almost three years since we learned the name Amber Cole, a fourteen year old blackgirl who was secretly recorded while performing fellatio on a former boyfriend.  Images and taunts spread quickly as the video went viral and commentary about Amber's agency, privacy and sexuality sparked controversy across the interwebs.  There was slut-shaming, blaming, and judgment of Amber and her family (especially her mother) with little mention of the three boys involved (the boy receiving oral sex, the boy recording it on his phone, and a third who watched in the background).  In my gender class we discussed …Read more »
Thank you to our Generous Supporters!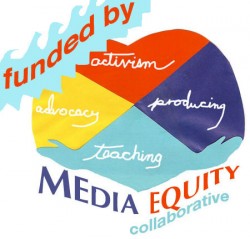 Join Us on Facebook
Blog Topics