Meet the people of the CFC

Join the CFC IRL!

Check out the latest post!
Dear Octavia, Yesterday, it was your birthday. Happy birthday, dear! I've been missing you a lot and thinking about you a lot lately, especially since there's a newly discovered crop of your short stories. I feel like that was a gift for all of us. Your work has continually been a gift to me and, though you have transitioned to being an ancestor, I want share my appreciation for you life and your work. I've been a fan of science fiction and fantasy since I could read. Reading about lords and ladies, outer space, and other fantastical things were …Read more »
Sometime between now and July 4th, the Supreme Court is set to rule on two cases that will affect our access to birth control, Sebelius v. Hobby Lobby Stores, Inc. and Conestoga Wood Specialties v. Sebelius. In both these cases for-profit companies are using the Religious Freedom Restoration Act (RFRA) to challenge the Affordable Care Act's (ACA) guarantee that health insurance plans include coverage of contraceptives. Since the ACA policy went into effect, 24 million more prescriptions for oral contraceptives were filled with no co-pay in 2013 than in 2012 and has saved women $483 million in out-of-pocket costs for …Read more »
I grew up in a small town in North Carolina where my sister had a basketball goal connected to a tree and learned how to strategically run around the stumps to avoid falling.  She also learned to perfect her jump shot through a conspicuous tree limb and branches that blocked her view like the outstretched arm of an opponent.  She got pretty good and in middle school when there weren't enough girls to form a girls' basketball team, she was one of two girls who played on the boys' team (as a starter).  She got that from our mother.  Her …Read more »
I'm a feminist who believes in God. Raised Christian, I still attend church.  But what I am not is a person who will willingly check her brain, political convictions, or academic training at the door in order to enter the house of God or to participate in a community of faith. Express homophobic views, tell me that God requires me to let a man rule my house because I have a vagina, or spout a prosperity theology premised on the idea that poor folks are poor because they lack faith, and you are likely to see me get up and …Read more »
"If growing up is painful for the Southern Black girl, being aware of her displacement is the rust on the razor that threatens the throat.  It is an unnecessary insult."   -Maya Angelou, I Know Why The Caged Bird Sings If you were ever blessed to be in the same room with her, you knew she was magic.  And when she spoke the room stood still, held breath, knees touching knees, eyes begging for silence to keep from missing even a whisper of her words, beckoning attitude, calm, wisdom and brilliance all at once. Her words were generous gifts she shared …Read more »
Over the past few weeks, in the midst of teaching a pre-summer class on black masculinity in which we have discussed, debated and dreamed about the possibility for fluidity in raced gender performance, I have listened to a black man weep and express his love for his teammates and his appreciation for the sacrifices of his mother (see Kevin Durant's NBA MVP acceptance speech); watched a black man kiss a man, full lips, on live television in celebration of an unprecedented accomplishment (see Michael Sam draft coverage on ESPN); and relished in the Pepto-Bismol-pink-colored-Cadillac a black man gave to his …Read more »
Jill Abramson's firing from the New York Times did not surprise me. The surprise was that I couldn't manage to care. At least not in the way I saw the feminist blogosphere erupt with anguish and rage. Righteous rage, I concur. But I couldn't manage the energy for that kind of rage. Perhaps I remained relatively unmoved, having become cynical and hard-hearted in the face of ubiquitous sexism. Perhaps I didn't expect Jill Abramson to be treated fairly. Perhaps because I never bought the beautifully packaged and relentlessly marketed Lean In brand of feminism as a salve for structural sexism. …Read more »
Out of respect for elders, I haven't been pressed to weigh in on why the venerable bell hooks might find it reasonable to refer to Beyoncé as a terrorist. Yet, I felt compelled to respond this morning, after reading this piece from Rev. Osagyefo Sekou at Truth-Out.org, that indicts an entire generation of Black intellectuals for apparently "believ[ing] that the system is a good system that only needs to provide greater access to the historically othered." Who exactly are these people who believe this liberal claptrap?  Because of this alleged belief in the "goodness" of our current racist, capitalist, patriarchal …Read more »
Earlier this week, TMZ released the now infamous elevator video of Solange going HAM on Jay Z.  The responses have been swift and the memes have been hilarious.  I'm a let y'all finish but, there are a few things missing from the conversation. First of all, Solange was dead wrong.  Now don't get me wrong, I am a huge Solange fan. She's my favorite little sister in the history of celebrity little sisters.  I've always appreciated her spunk and her fighter spirit. Real talk,  I always liked that there was a possibility that she might haul off and slap somebody. …Read more »
As a black feminist I am always here for the celebration of blackgirls, black women, and black wommanness in general (shout out to Dr. Ruth Nicole Brown, arbiter of Solhot, a promise to young blackgirls and women—and others who are doing the work past visibility and towards self-esteem and community accountability).  And as a dark-skinned blackgirl who has struggled through self-esteem issues ranging from the "you ain't the right kind of black" in the 80's , to the "you gotta be light-skinnededet to be right" tan-black of the 90's, to the "you ain't the in style" brown-black of the 00's, …Read more »
Thank you to our Generous Supporters!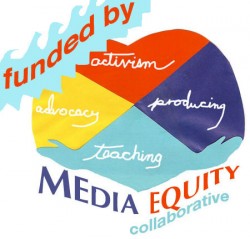 Join Us on Facebook
Blog Topics